Are you new to Tip Junkie? If so, check out our Frequently Asked Questions.


It's tutorial time. Time to be inspired and learn a new trick or skill. Enjoy!
Cooking: Koala Brains submitted her tutorial on making Max the lovable bunny's earthworm cake.
Cooking: Mandy submitted her quick sunshine cupcakes.
Cooking: Kimberlee swears this is the best rice pudding ever.
Design: Jannypie submitted her easy inexpensive shower refacing tutorial.
Entertaining: Mayaluna submitted her newspaper bunting tutorial.
Entertaining: Holly hooked us up with a paper palm tree tutorial.
For the Kids: Here's Karin made a crown tutorial.
For The Kids: Faith submitted her personalized growth chart.
For the Kids: Camille submitted her tutorial on how to make a bean table for your kiddos.
For the Kids: Camille made and painted this card board box and made it into a cute little house.
Gift Idea: Cindy submitted a tutorial on how to make a baby keepsake pendant – polymer clay photo transfer technique
Gift Idea: Nikki shows you how to make your own personalized tumbler, monogrammed coffee mug.
Scrap Craft: Kimberlee submitted her tutorial on the best way to use flock.
Scrap Craft: Cathy made an ordinary clock into something fun and personal.
Kathleen submitted her cardboard loom weaving tutorial.
Sewing: Donna submitted her simple neck coolers.
Sewing: Sarah made this adorable no-sew tutu.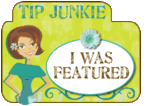 Just copy & paste the following code into your blog:
Thanks Ladies! If you don't already have an "I was Featured" button, feel free to copy the code and wear it proudly on your blog. These are amazing!
If any of you have taken the time to post a tutorial submit it and I'll feature it!