Here is a little Father's Day craft DIY project made with Martha Stewart's  free Retro Father's Day word art template. Use them to embellish a fun container and fill it with all kinds of goodies… like…. cookies, a shirt maybe even a tee, or any kind of special something for the Father in your life.
I've also added a little gift card holder
If you don't want to use the gift card/ tag….  just use it as a greeting tag.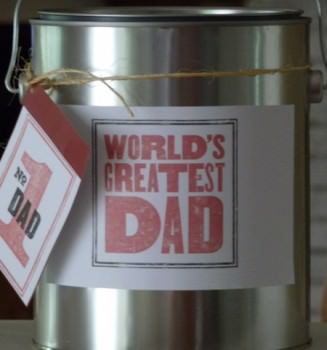 How to Embellish the Can:
1. Get a new empty paint can holder (This is the larger size and sells for $4. ?? at Home Depot you can use the smaller size can for a smaller gift… such as a tie, etc.)
2.  While you're at the Depot pick up a couple of Martha's Paint swatches….  Sealing Wax is a pretty color and works well with the template.
3.  Next print off the template… I put mine at 150%
4.  Next cut the images apart.
5.  Attach the Worlds greatest Dad label to the can with double sided tape.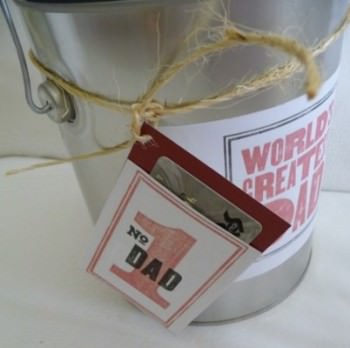 How to make the Gift card holder or Greeting Tag:
1.  Cut #1 Dad to the width of the paint swatch and trim it at the top and bottom.
2.  Sandwich together with 2 way tape, 2 of the paint swatches, so the paint shows on front and back.
3.  attach the dad piece to the paint swatch on 3 sides leaving about  1? of the paint showing at the top. If you are using it as a gift card holder leave a pocket opening at the top so you can slide the gift-card in…if you just want to use it for a tag… attach the images on all 4 sides with double sided tape.
4.  Write your greeting right on the #1 Dad image. Punch a hole in the corner and thread with twine or ribbon.
5.  Fill with goodies and/or a gift card!
You can check out the entire tutorial with step-by-step pictures over on Rene's blog, Bargain Hoot.
About the Executive Homemaker: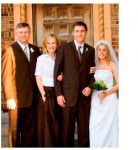 Hi, I'm Rene' from Bargain Hoot a wonderfully blessed wife, mother and the host behind each post. If you love bargains, DIY decor, recipes, crafting, and doing cute weddings/events for less check out Bargain Hoot.. You just might find something that inspires you and saves you money!!!