Today we are featuring recipes for how to make sliders. Sliders are all the rage at parties these days!  They are bite sized (well, two bites) sandwiches that allow you to savor a guilty pleasure meal, but not over indulge.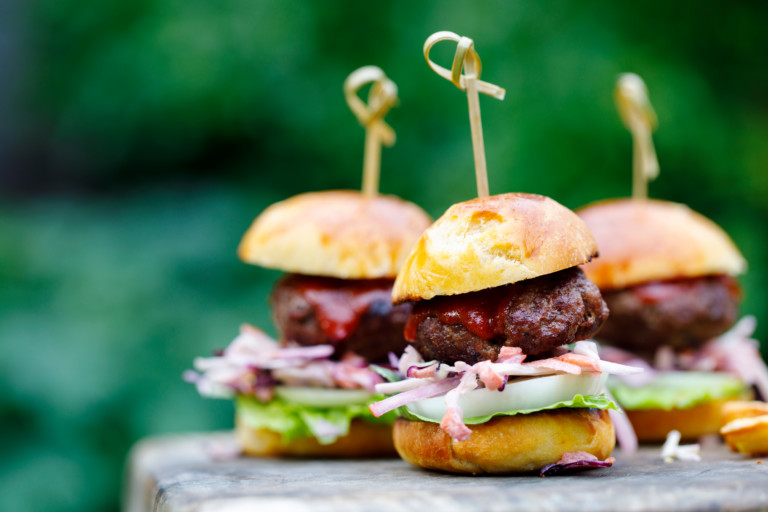 When attending Blogher this year, I saw sliders at each and every private function. You can use multiple variations featured here to hit the different palettes of each of your party goers.
Can you say, end of summer barbecue?
How to Make Sliders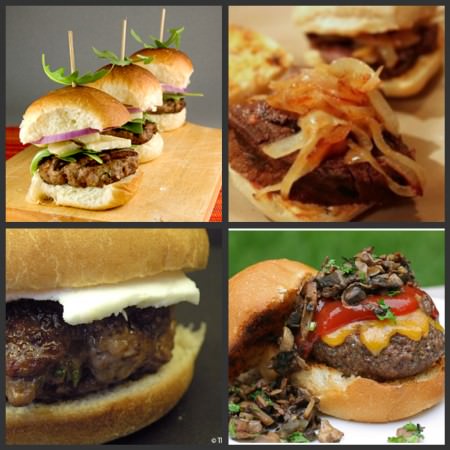 1. Turkey Sliders with White Cheddar, Red Onion & Arugula Dark Turkey meat mixed with salty capers, onion and Worcestershire make for a not so bland turkey slider. Enjoy with sliced white cheddar, arugula and your favorite condiment.
2. Chipotle Steak Sliders These steak sliders combine the spice of chipotle with the sweetness of vidalia onion to create a high-end slider. A perfect addition to a heavy hors d'eouvre  evening.
3. Lamb Sliders with Rosemary & Mint (step-by-step photos) Lamb lovers will enjoy this rosemary and mint infused slider. Combine some fresh garlic to taste and green onion and you have a lean slider with lots of flavor.
4. Mushroom and Cheddar Sliders with Chipotle Ketchup Make these sliders with ground turkey or ground beef. Top your slider with the tasty mushroom mixture prepared in advance with the doctored up ketchup recipe and you have a classic but interesting slider to satisfy your hunger.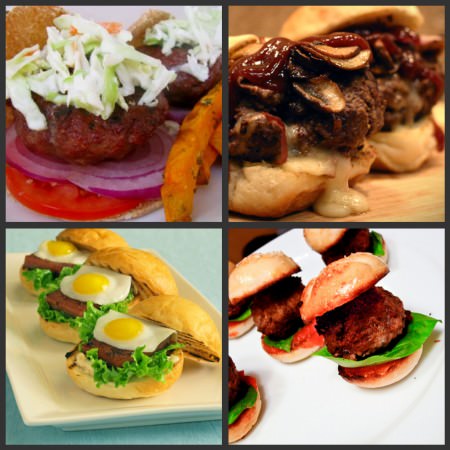 5. Slaw topped Bison Sliders A healthier cut of meat makes up this slider. It comes complete with a "secret" ingredient that adds a savory flavor to it. Top it with some coleslaw and you have a slider that will surely satisfy.
6. Brie Stuffed Elk Sliders Brie is such an indulgence. Add it to this already unique elk slider and you have a melt in your mouth burger.
7. Spam Sliders with Quail Eggs Don't knock the spam ya'll. It is a known staple in Hawaii that really isn't given enough credit on the mainland. This recipe calls for a sesame, soy and chili marinating period. Add the egg and some gingered mayo to boot, you've got a unique party meal.
8. Meatball Sliders with Parmesan Rolls Combine ground beef and ground pork to create these meatball-like sliders. Take the time to create the made-from-scratch parmesan rolls and you are golden. Bon Apetit!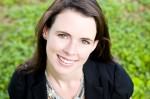 This post contributed by Nicole from Moments that Define Life. Nicole is a stiletto wearing, cabernet sipping Mama to three girls. She has spent the bulk of her life being a bad cook. But, she has reformed her ways and vows to improve her skills each day in an effort to keep her husband. Her efforts are lost on her children, who respectfully prefer chicken nuggets and PB&J's.