Throw your son this fun and easy Bionicle Party, he'll love it!  There are 6 main Toas – green, blue, red, black, brown, and white. (Don't forget that blue is Gali, a girl!)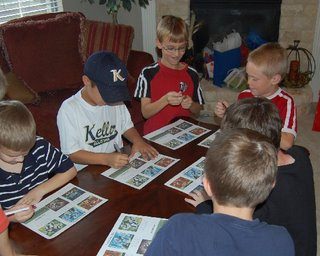 Here are some activity ideas:
1.  Guess how many Bionicle pieces in the bowl.
2.  Name That Toa: Use the Bionicle Alphabet Legend to figure out the name of each Toa pictured.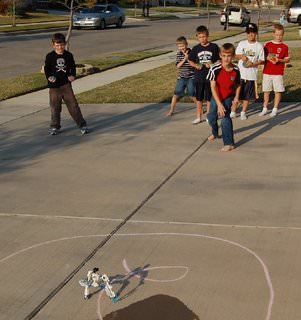 3.  Toa Challenge: Consisting of an obstacle course with 6 events related the Toas' elements – water, earth, air, ice, stone, and fire.
*  Vakama's Lava Jump – Jump over pieces of a red table cloth.
*  Nokama's Water Challenge – Throw water balloons at pictures of bionicles on driveway.
*  Whenua's Dig – Find the buried Bionicle picture in the sand box.
*  Matau's Jump – Do your best trick on the trampoline.
*  Onewa's Stone Challenge – Carry a bucket of stones.
4.  Design Your Own Disk: Construction paper & markers
5.  Crystal Hunt: Hide ring pops. Or hide glitter Easter eggs w/ a bionicle picture inside, the egg they find determines what bionicle they will put together for the Bionicle Race.
6.  Bionicle Race: After finding a crystal (Easter Egg), have them open the crystal to find which Bionicle they would put together.  Purchase Matarons which are about $4 each for each child to build.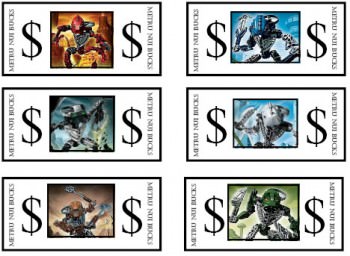 7.   Metru Nui Money (print out on EH) or you can make your own Kanoka Disk Tokens (cut cardboard into circles and paint the toa colors).
8.  Kohli (the game they play in the movie):  Croquet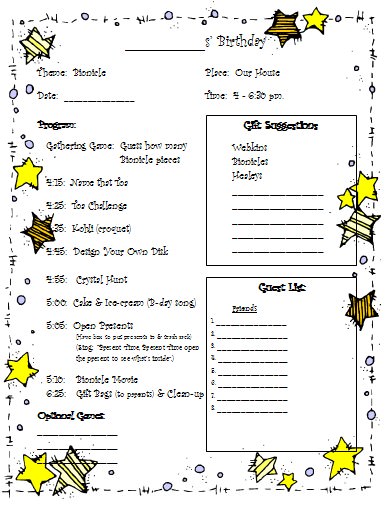 Print Free File: Download
Food Ideas:
1.  Toa Disk Sandwiches – make the sandwich and then use a glass or circle cookie cutter to make it round.
2.  Vahki Veggies – cut up a variety of veggies and put on a wooden skewer.  Pour salad dressing into bowl for dipping.
3.  Liquid Potodermis – use a light colored drink (white grape juice) and add 1-2 drops of blue food coloring to each glass.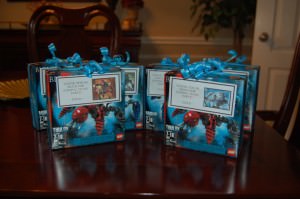 Print Free File: Download
Party Favor:
Attach the "Thank You Note" to a party bag or a Bionicle.  You can purchased Matarons for about $4 each.