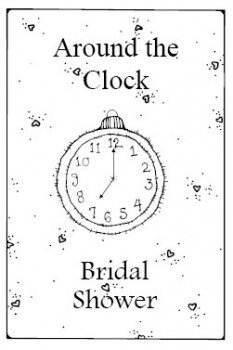 Print Free File: Download
I really enjoy the convenience and ease of having a little booklet to hand out with all the games (and other information) each guest will need.
How to Print:
1. Print out cover in pink or blue paper.
2. Print out the rest of the booklet front and back.
How you make one yourself:
1. I make the booklet using Microsoft Office Publisher (but you can use other software).
2. Make it in a landscape format.
3. The booklet is half of a standard sheet of paper (4 x 5).
4. Design a cover sheet and and print it off on colored paper (usually pink).
5. Add in games and some fun information about the bride and print it off.
6. Punch a hole on the upper left of the booklet and tie together with ribbon.
You can get a little fancier and add candy or a cute little party favor or if you're in a hurry just staple it together.
*********
The file above is a copy of a "Around the Clock" Shower I did for my sister. It has the "Love Letter to the Bride" from the groom game using cleaning supplies and "The Love Story" game. Both these games were a great success and so much fun, not only to plan, but also to play!
Answer Key: From my experience, it great to have at least one copy of an answer key. That way if you (as the hostess) are tending to other duties during the party, a friend can conclude the games for you and hand out the prizes.