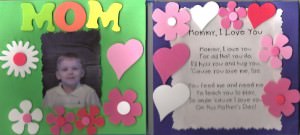 Here's a easy gift idea for Mother's Day.  You can do this as a play group, church activity, etc.
On the right side include the poem below and on the left side put a picture of the child.
Mommy, I Love You
Mommy, I love you
For all that you do.
I'll kiss you and hug you,
'Cause you love me, too.
You feed me and need me
To teach you to play,
So smile 'cause I lvoe you
On this Mother's Day!
How To Make:
Use your creativity to make this as nice or as "child friendly" as you wish.
1.  Glue square colored craft foam to each side of the CD case.
2.  Print out the poem with decorative scissors and glue it to the right side of the case.
3.  Take a digital picture of the child, print it out on the computer and glue to the left side of the case.
4.  Use craft foam letters to spell the word "MOM" and glue it above the child's photo.
5.  Decorate the rest of the CD cover with craft foam hears and flowers in all shapes and colors.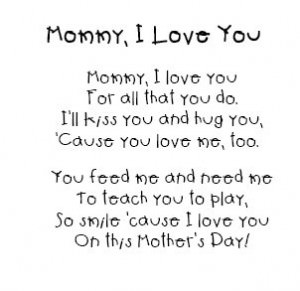 Print Free File: Download