Print Free File: Download
Many of us will be hosting a graduation bash in the coming months.  These tags would be great to:
Embellish a gift
Made into cupcake toppers
There are two versions, a girly version, and a more masculine version.  Congratulations class of 2010!
About the Executive Homemaker: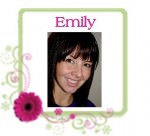 My name is Emily and I am so excited to be a contributor to Executive Homemaker! I live in the recreational state of Idaho with my gorgeous husband, he's seriously a cutie, and my two kiddos. My hubby is currently in the final semester of his graduate program and I get to stay home and enjoy Buster "J" and Lady "P."
Although my area of expertise is graphic design, I love to sew, crochet, doodle, play, and anything else that gives me a creative outlet. I have a blog of my own called
where I get to share my ideas with others and make strangers my friends. Stop by for a visit!
Blog: The Rubber Punkin