This is a fabulous tutorial on how to not only store your rings but store them in style! Using an egg crate, paint and beads you have a great way to make picking out the perfect ring each day easy. Follow any one of the tutorials below to make one of your own!
All of these DIY ring holders are made from an egg carton. It's a display for your favorite rings, earrings, and chain necklaces.
DIY Ring Storage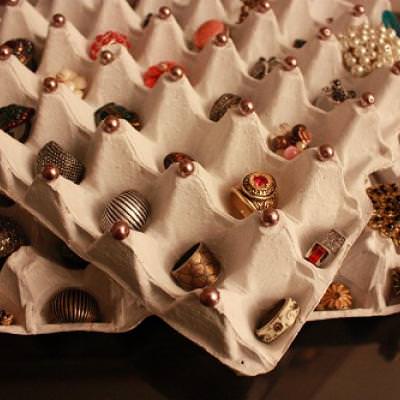 Storing fashion rings for your fingers in a quick and easy way can be a challenge. I love how the egg crate keeps the rings up-right so you can see what they look like. This is especially helpful when you're putting on your accessories in a hurry like I usually do.
How To Make a Ring Display
Turn an egg carton into an elegant ring holder for under $5. Kathy will show you how!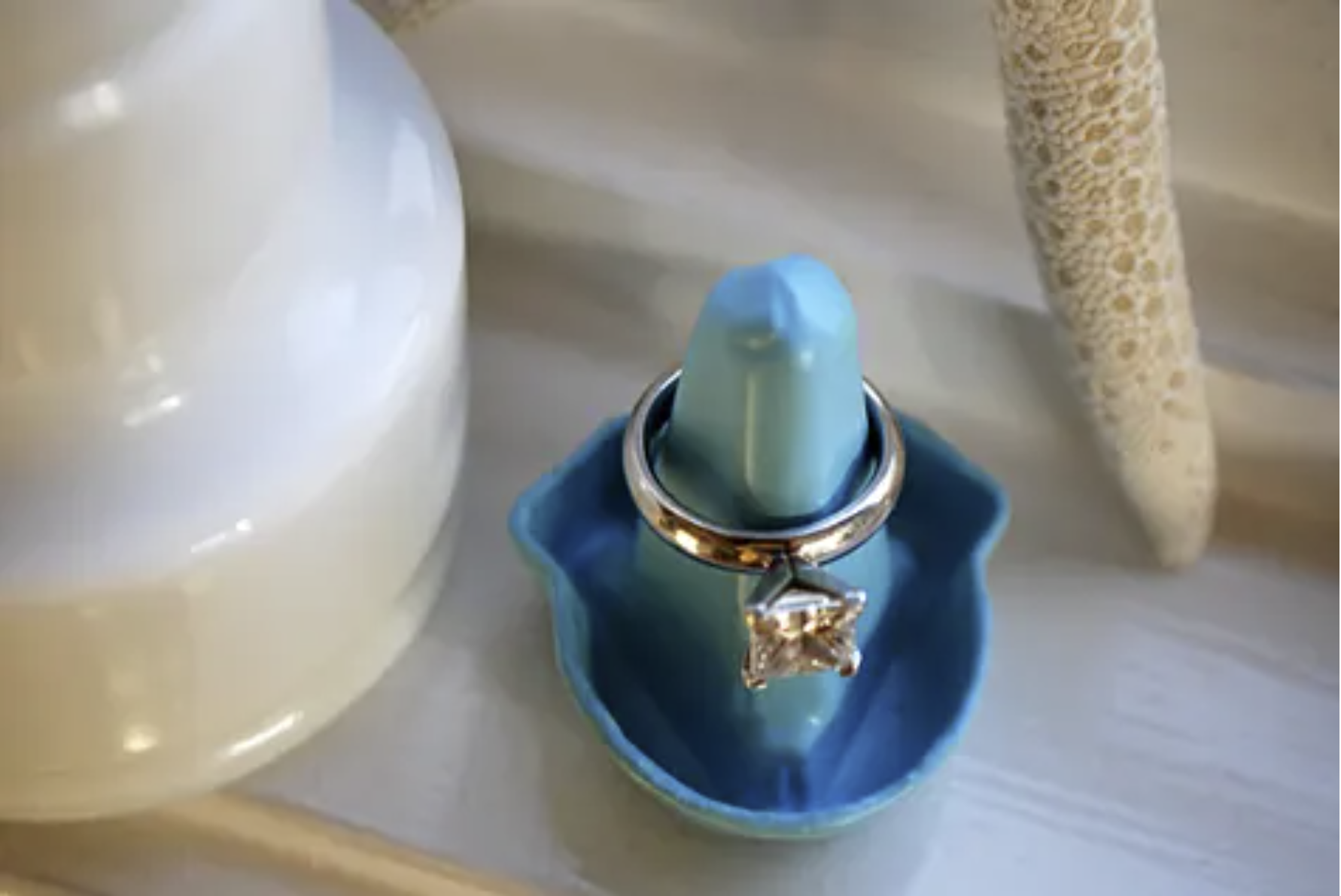 Merriment Design has hooked you up with her tutorial on how to make a ring display out of a recycled egg carton. I love how Kathy spray-painted the egg carton and created a unique handmade gift for her friend. Such a thoughtful gift idea, don't you think?
Materials needed:
Empty cardboard egg carton – for best results use an egg carton with smooth rather than bumpy cardboard – I used Farmer's Hen House Brand 😉
Leftover paint (Kathy used a semi-gloss white for the undercoat and the eggshell Tiffany-esque turquoise blue from Elise's table for the topcoat)
Metal washer (one per ring holder)
Glue gun and glue sticks
Q-tips
Toothpicks
Ring Storage Ideas
Follow this easy instruction guide to create your own eggshell-inspired DIY jewelry display. Just grab an egg carton, some Exacto knife, and some glue. Learn how to create a pretty, eggshell-inspired jewelry display.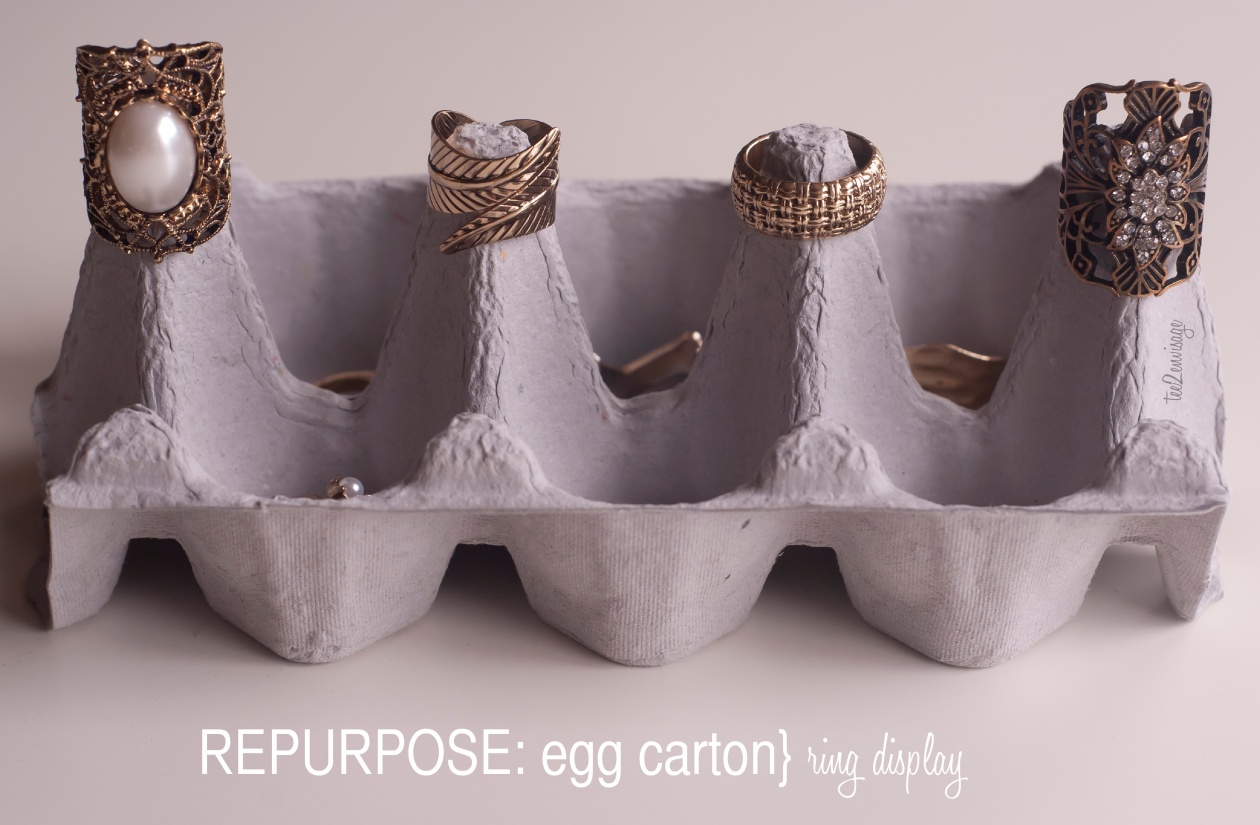 Tee2Envisage will show you how to use BOTH the top and the bottom of the egg carton to organize, store, and display your rings. (squeal in delight)
Use the inside of the egg carton as a ring holder. All you need is an egg carton, a knife, maybe scissors, and less than 5 minutes.
Tired of Tangled Chains?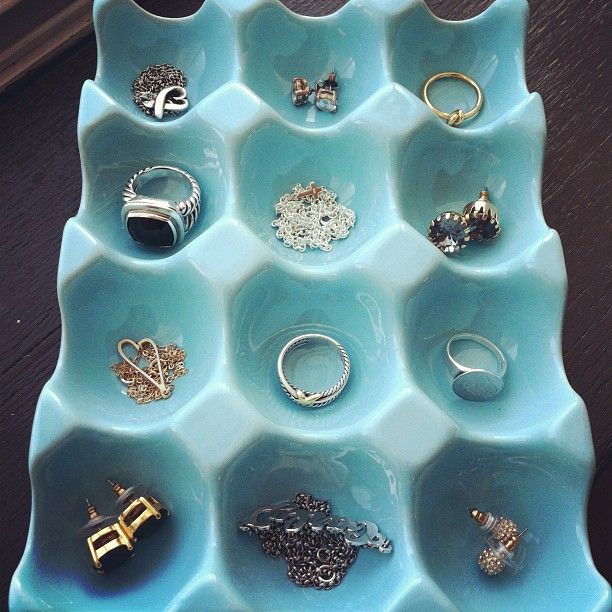 This DIY ring display isn't for rings only. Oh no! Loads of jewelry but no proper place to keep them, who took down their site, used her repurposed egg cartons as a DIY jewelry storage for her necklaces because she was tired of trying to untangle her chains. Brilliant idea.