If there is one thing I like more than sweet treats, it's sweet and salty treats.   With all of the amazing sweet treats this time of year, it seems only right to add a few with a salty kick.   Here are some quick and easy sweet and salty treats that you can make in very little time, and would be great to take to any Halloween party…
First, one of my all time favorites – chocolate covered pretzels.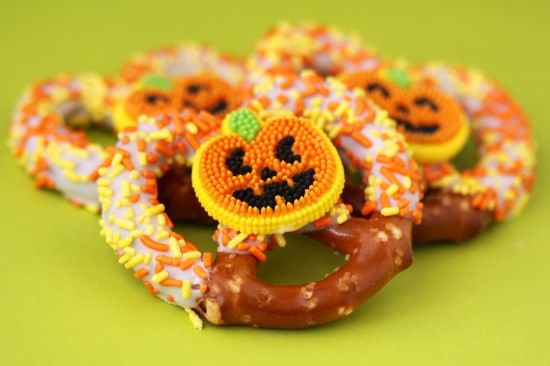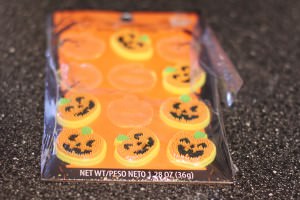 These are one of my favorite things to make, because they are so quick and easy and they are always very well received.   You will need some pretzels, melting chocolate and sprinkles or other decorations you want to use such as mini chocolate chips, M&M's, assorted candies – be creative!    Melt your chocolate according to the directions on the package, dip your pretzels into the chocolate, tap off the excess dripping chocolate and add your sprinkles.   Sit on wax paper and allow chocolate to set up.   To make these even more festive, add some sugar decorations that you can find at most grocery or super stores.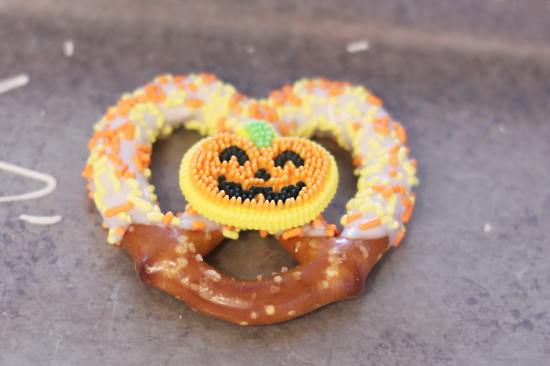 For a more detailed step by step tutorial on how I make my preztels, check out my how to on Love From The Oven.  This truly is one of my favorite treats to make.  Not only is it easy and delicious, but depending on what sprinkles and decorations you use, you can totally change the look to fit any holiday or any party theme.  Want something a bit more spooky than sweet?  How about black sprinkles and sugar skulls?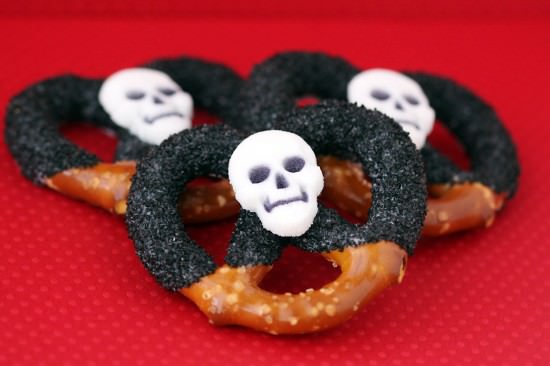 Or how fun are these Mummy Pretzels?  After I saw this ideas on Midwestern Sewing Girl, I had to make them myself.  Simply drizzle some white chocolate onto your pretzels, add your candy eyes (Target has some in most of their Halloween sections) and voila!   My eight year old declared these the cutest chocolate pretzels ever.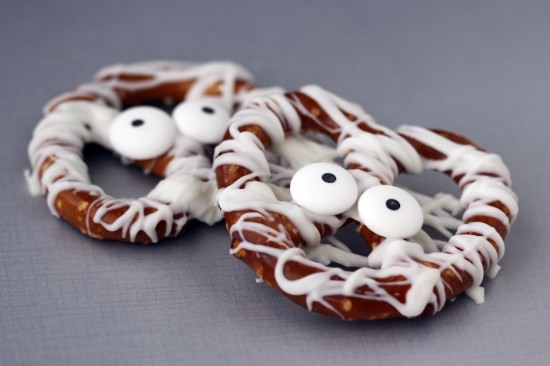 Pretzel rods are also fun, and every bit as quick and flexible.  These ghosts are simply pretzel rods dipped in white chocolate and topped with two mini chocolate chips & one full size chocolate chip to create the faces.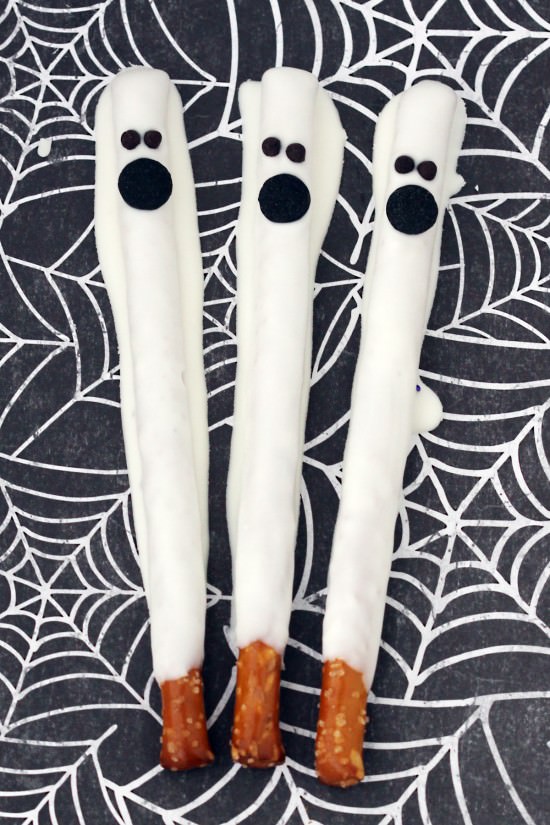 Put some candy corn to use by adding candy corn to your pretzel rods.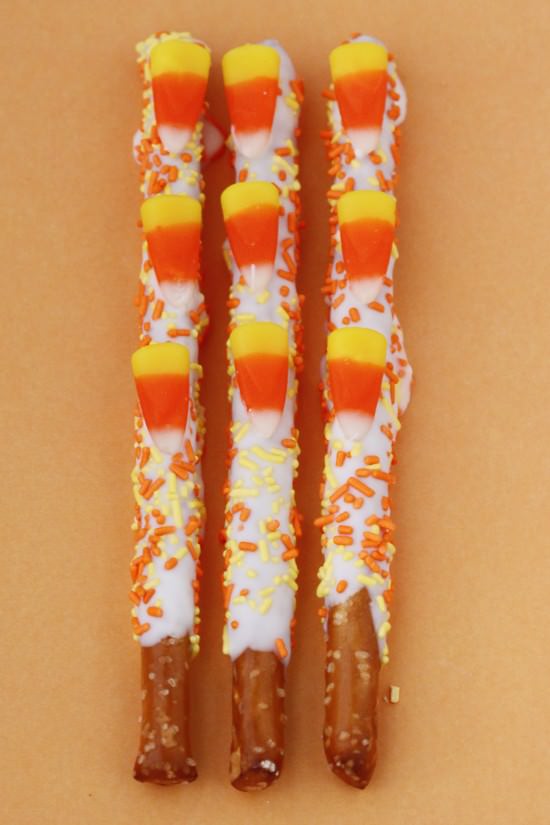 And you can never go wrong with just adding some holiday themed sprinkles.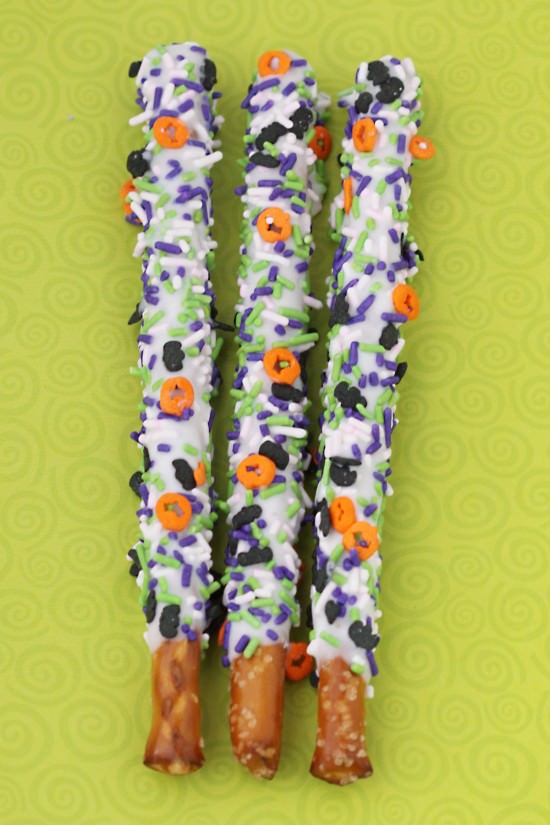 Put these in a cute little bucket from the dollar section and you not only have sweet and salty treats, but a cute centerpiece.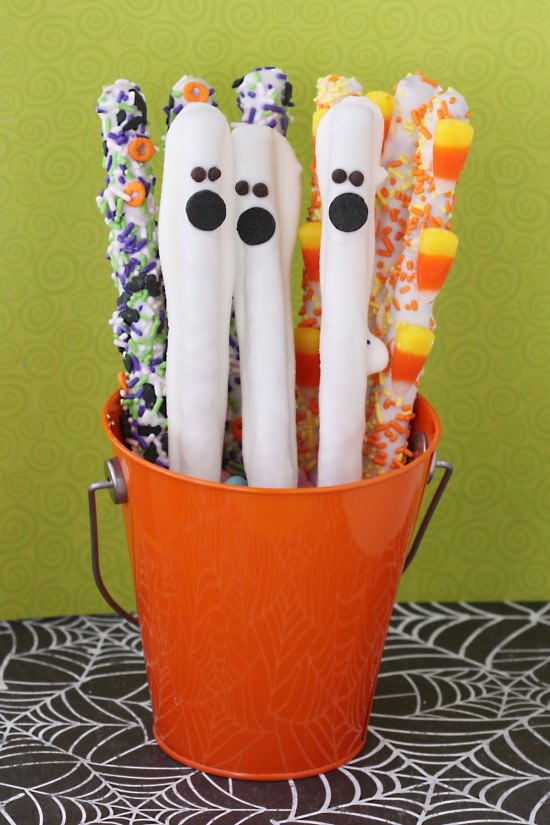 Want another fun and easy way to mix up your sweet and salty?   These quick and easy pretzel bites are perfect.
You need pretzels, M&M's and a chocolate for melting – I used Candy Corn Hershey's Kisses, but you can also use other candies as well.  I have also made these using the Wilton's Candy Melts, and I have to say they work great.     Preheat your oven to 350 degrees.   Lay your pretzels out on a cookie sheet covered with foil.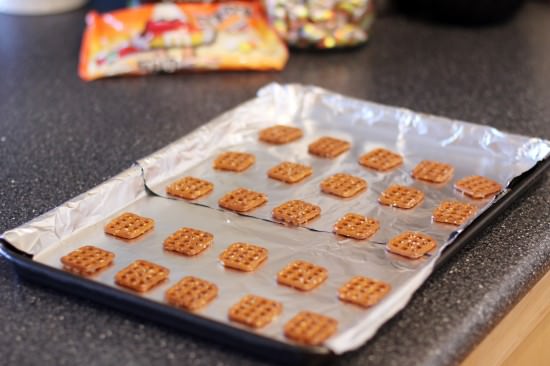 Top each pretzel with a chocolate Kiss, candy or melt.  This is a great part to have the kids help with.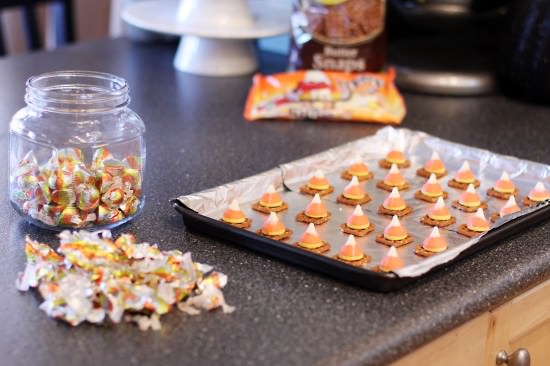 Before you put these into the oven, make sure you have your M&M's ready, as you will be adding them to the tops as soon as they come out of the oven.   Put in the oven and watch closely – these Kisses took about five minutes to get melty, but your time could range from as little as two minutes to as long as ten minutes.  Every candy is a bit different, even white chocolate and milk chocolate melts take different amounts of time.    You want the chocolate to get melty enough to put your M&M's into, but not completely liquify.
As soon as you pull them out of the oven, gently press an M&M into each one.   This part is probably not one you want to let the kids help with, as the pan, and the chocolate, will be hot.   Some of the M&M's may crack from the temperature change, but they will still be completely delicious.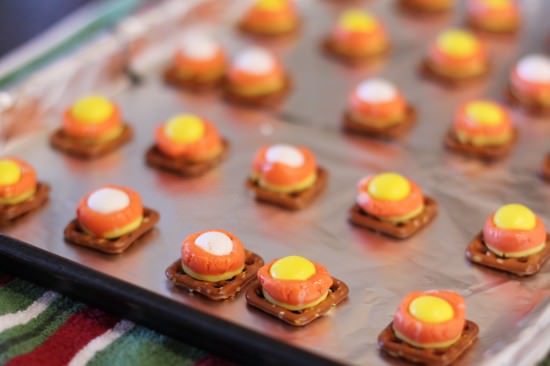 After that all you have to do is allow them to cool.    These can take a few hours to set up, especially when you use the Kisses.     These are delicious and a little too easy to pop into your mouth one right after the next!
Are you looking for a few more salty sweet treats?    Try these amazing recipes, which could easily be themed for Halloween just by changing up the colors and sprinkles:  Double Chocolate Peanut Butter Pretzel Bites, Pretzel S'mores or the insanely decadent Caramel Chocolate Chip Brownies With Pretzel Crust.    Enjoy!
About the Author: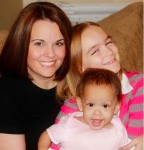 My name is Christi. I LOVE to bake. I HATE to cook. This works out great for dessert, but not so well for dinner. Oh well, I've accepted it, and have the pizzeria on speed dial. I love baking for others – for holidays, for special occasions, for gifts or just for the heck of it – I mean who doesn't love random cake pops on a Tuesday for no reason??? I share most of my baking and treat making ideas on my blog – Love From The Oven. My favorite things are my two daughters, open adoption, photography, Diet Coke, fries with ranch dressing, my iPad, 80's hair bands, frozen margaritas, sarcasm, Marc Jacobs handbags, rainy days, Bravo on my DVR, hot pretzels at Disneyland, decorating for the holidays, my husband doing the dishes and the distant memory of sleeping in.