I've quickly become a fan of Celebrations.com and I've featured them several times due to their great content.  They kindly invited me to guest post for them and I was happy to contribute to such a fab site.  You can check out my post on Pool Games for Kids which lists 4 entertaining water games your kids will love.
In keeping with a celebratory theme, today I'm featuring entertaining tips submitted by readers.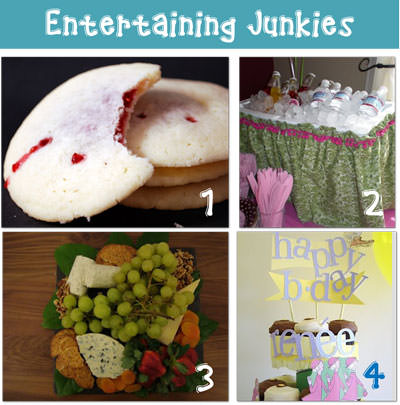 1.  Vampire cookies for a Twilight or Halloween party.
2.  Heather created a tutorial for her fabric covered drink cooler.
3.  How to make an easy & impressive cheese platter for a party.
4.  This is Natalie's fabulous cupcake tower for non bakers.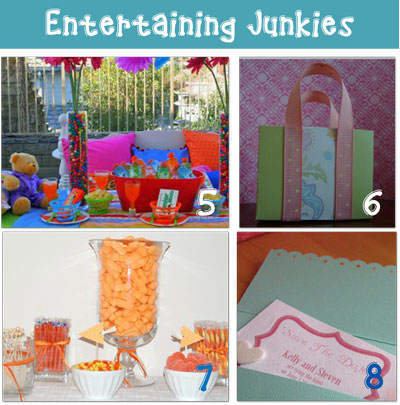 5.  Donna submitted her Slumber party with some pretty fun decorating ideas.
6.  Doreen created a tutorial on how to make bags for party favors.
7.  Dianna submitted her book club candy buffet.
8.  Here is Chelsea's save the date magnet and holder tutorial.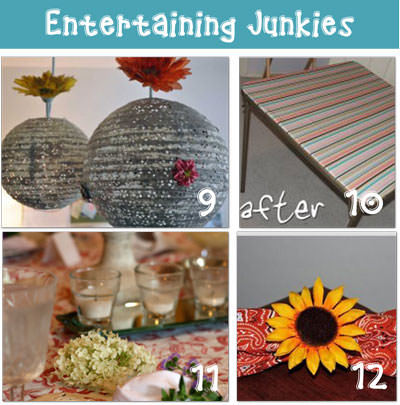 9.  Robin shows us how to transform plain paper lanterns into something special.
10.  Mandy spruced up an old card table for her party.
11.  Mama Mel made napkin rings out of faux sunflowers and shower curtain hooks.
12.  Shawn gives us a few quick tips for throwing an impromptu weekday dinner party.
I know I sound like a broken record but unless you've re-signed up on this WordPress blog for Tip Junkie's RSS feeds (daily updates) you won't be receiving them.  I've been receiving tweets & e-mails about people wondering where their daily inspiration went and unfortunately you'll need to update your new feeds.  Sorry for the inconvienice!
Please update by simply clicking on the links below:
All New RSS Feeds: Tip Junkie Blog, Mom-preneur Shops, Giveaway Directory