Breakfast is my favorite kind of food so today I'm featuring 16 of the best french toast recipes!  You'll not only learn how to make french toast but also fun toppings, french toast casserole, and how to make baked french toast.  My mouth is watering as I type this!
How to Make French Toast
1.  Easy French Toast Recipe – A basic or traditional way of making french toast that's an easy recipe.
2.  French Toast Muffins – I love french toast and it just seemed the perfect beginning of Fall recipe.
3.  Fluffy French Toast –  The batter makes a nice coating over the bread.  I think it is very similar to if you were breading something and deep frying it.
4.  Oven Baked French Toast – A way to make french toast using french toast and cooked in your oven.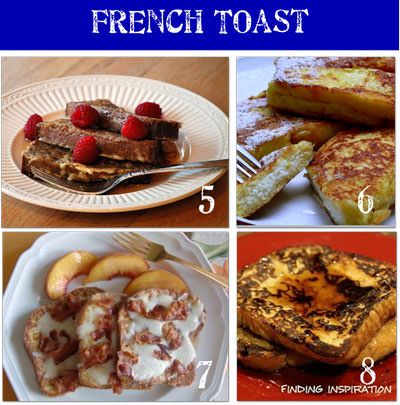 French Toast Recipe
5.  French Toast with Raspberry Whole Wheat Bread – when MaMa ran across this recipe for Raspberry Bread and she put the whole grain twist on it.
6.  Cannoli French Toast – This is a simple idea, and it's big on flavor.  It literally takes minutes to prepare and everyone will be singing your praises.
7. Gluten-free Savory French Toast – You must use a gluten-free bread that is soft in texture and has holes in order for the egg mixture to be absorbed.
8.  Banana French Toast – Make french toast by blending bananas for the batter.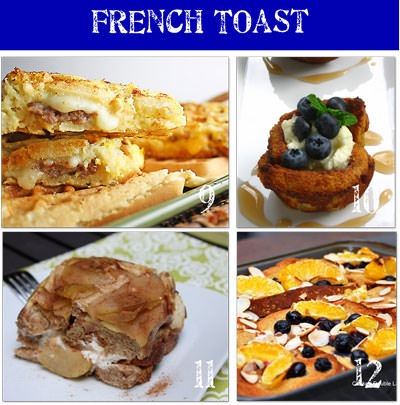 French Toast Casserole
9.  Stuffed French Toast Waffle Panini – This version is the most unique, not to mention the easiest!  It works well with all types of fillings, so experiment with what you like best and take it from there.
10.  Blueberry Stuffed French Toast Bowls – I cooked my French toast completely before cooling it and baking it into French toast cups. I then filled it with the sweetened cream cheese filling and berries to finish the dish.
11.  Apple pie ricotta-stuffed baked french toast – This really tasted like apple pie yet consisted of such basic, quite healthy ingredients.
12.  Blueberry Orange French Toast – Baked french toast version that includes blueberries, oranges, and almonds while it bakes in the oven.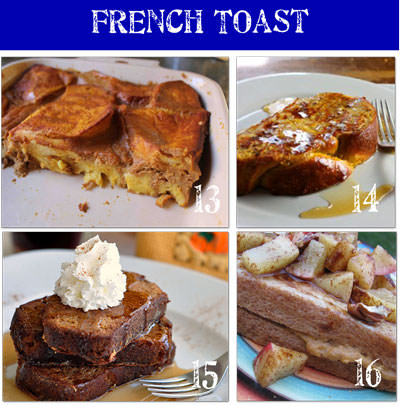 Pumpkin Recipe for French Toast
13. Pumpkin Pie French Toast – Even though it is totally decadent, I did modify it from traditional baked french toast recipes to make it arguably more healthy.
14.  Pumpkin Challah French Toast – This recipe is based on a per person serving, which makes two pieces. You can increase the recipe according to the number of people you will be serving.
15. Pumpkin Bread French Toast – I used my favorite pumpkin bread recipe and turned it into french toast.
16. Pumpkin Stuffed French Toast – For the topping today, I heated up 1/2 an apple with some cinnamon and then mixed it with 1/2 Tbsp of maple syrup and a couple pecans.
More Recipes from Tip Junkie