Halloween will be here before we know it!  Obviously we've got to look good all month long so here are 8 Halloween ideas and tutorials so you can make jewelry to accessories your fall wardrobe.
Announcement:  The Tip Me Tuesday link up party will resume next Tuesday!  Get your fabulous posts all ready with the Tip Me Tuesday button to play along.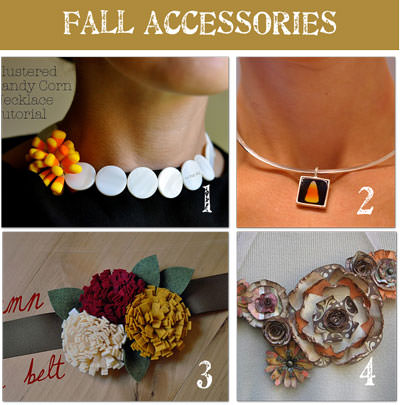 Make Halloween Jewelry
1.  Clustered Candy Corn Necklace Tutorial – How to make a chic candy corn jewelry out of clay.
2.  Spooky Pendant Necklace – Step by step instructions with pictures on how to make this Halloween necklace.
3.  Autumn Bloom Belt – Felt fabric flower made into an ultra fun felt that would work as a fabulous fall accessory.
4.  Paper Flower Necklace – Lots of layered flowers that I cut out with my Cricut Expression, inked, rolled and curled to get varous shapes.  I also Glimmer Misted it so there is a nice little shine to it.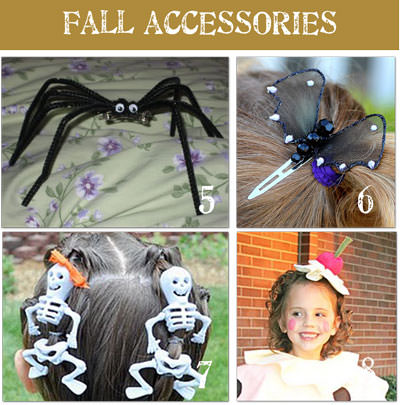 Halloween Hair Clips
5.  Easy Spider barrettes – In about a minute make cute spider barrette for a spooky cute hairdo.
6.  Bat Hair Accessory – Take your hot glue gun and attach the embellishment to your hair clip or headband.  That's it!
7.  Halloween Hairdos: Dancing Skeletons – We have come up with a whole bunch of fun Halloween Hairdos for you.  Many of them are done by recycling little Halloween decorations or favors.
8.  Cherry on Top Hat – Oh my!  This is such a darling idea I just couldn't resist but include it.  You could a darling little headband/hat for almost any costume or just for fun.
Handmade Jewelry Tutorials from Tip Junkie
Make Your Own Ruffled Tops
Fabric Flower Tutorials from Tip Junkie
If you have a tutorial over on your blog, submit it!  I'd love to feature you.  Tip Me Tuesday link up will resume next Tuesday.  I hope you'll add your favorite creative blog post to next Tuesdays linky party.