Wondering how to ask someone out for Prom, Homecoming Dance, or just on a date night?  Well, I've hooked you up with 20 creative ways to ask someone out!  You can tweak these ideas for either a girl or guy and use your own style to pull off a memorable "prom-posal".  {snicker}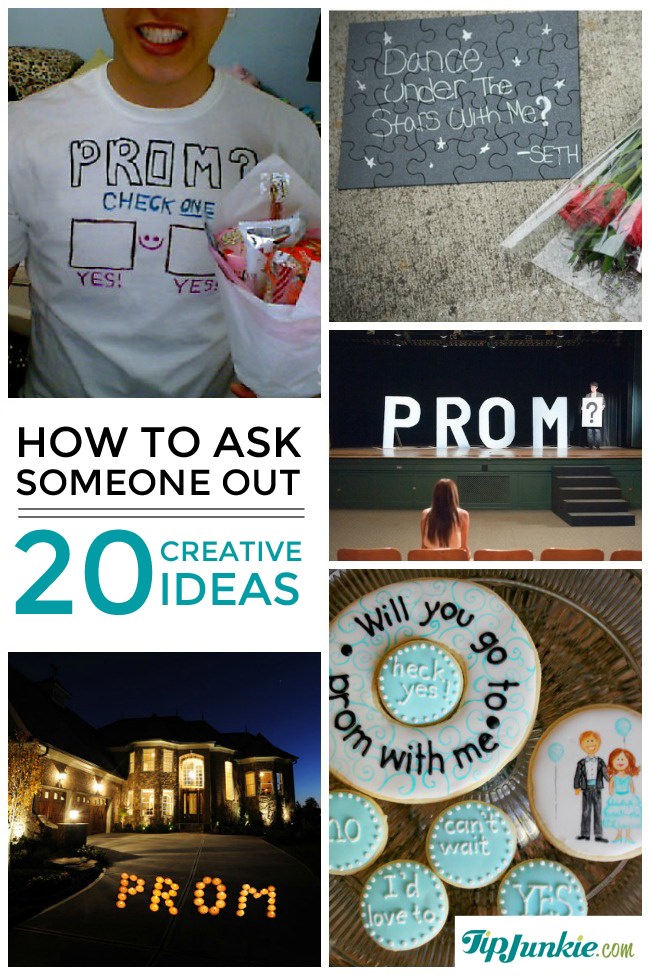 How To Ask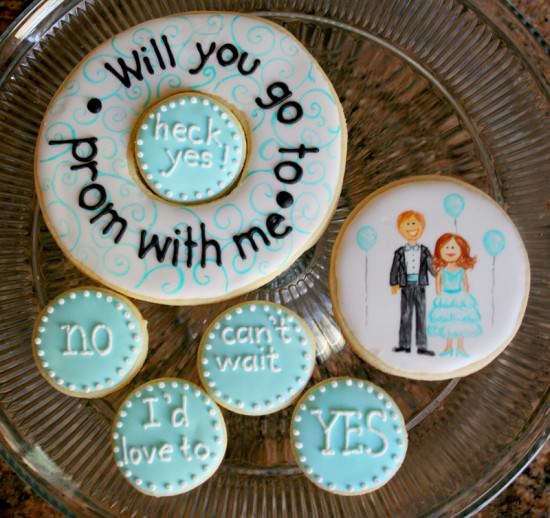 1.  How To Ask to Prom Cookies ~ Oh my gosh how adorable are these "Will you go to Prom with me" cookies.  I just adore how all the answers are there as well.  {my fav!}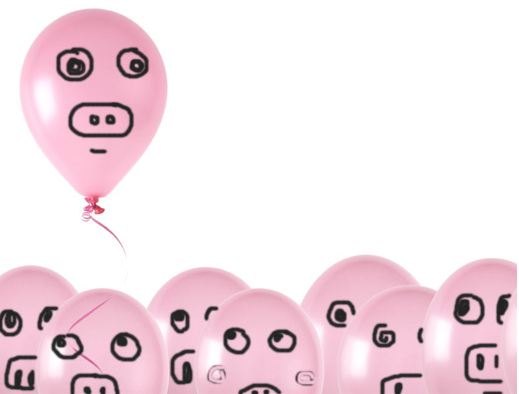 How To Ask A Girl Out
2.  When Pigs Fly ~ Fill a bunch of pink balloons with helium and draw pig faces on them. Put those balloons in a box and put a note on top of the box that says, "When will I ask you to prom?" and a note inside the box that says "When pigs fly!" Deliver the box!  {get it ~ they're flying!  HA!}
Creative Ways To Ask A Girl To Prom
3.  This is from the Disney movie "Prom", how simple and elegant is this P.R.O.M. ? cut-outs on a lighted stage.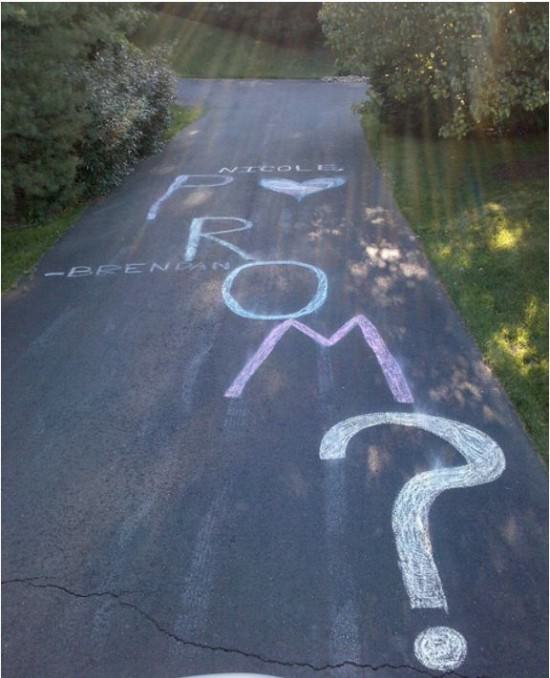 4.  Ask Girl Out Using Sidewalk Chalk ~ What an cheap and unexpected way to ask a girl out on a date, using chalk.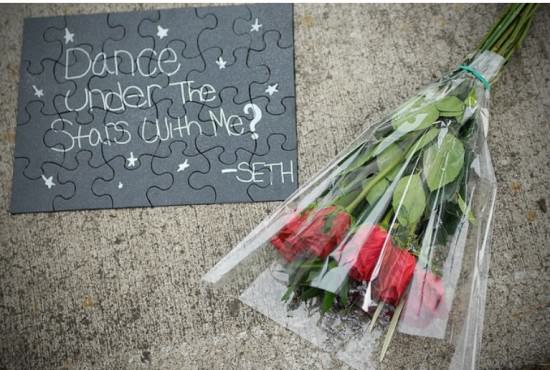 5.  Make it Puzzling ~ Write your date night question onto any type of board and then cut it out into puzzle pieces.  When your date finds it, they can put it together and enjoy the surprise.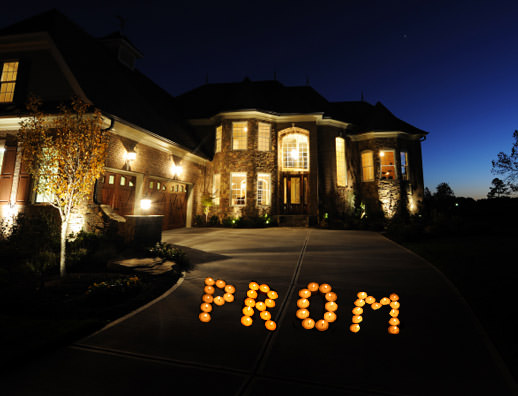 6.  Ignite The Flame ~ Set out a bunch of candles that light up on her driveway that spell out "Prom" or "Homecoming".
7.  Prom? Check Box T-shirt ~ Ok, only a certain type of guy could pull this one off, but I thought it was so hysterical I couldn't resist showing it to you.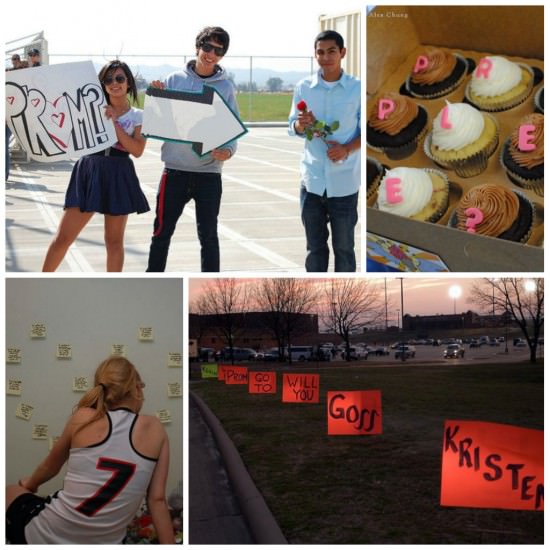 8.  Use a Sign and Some Friends ~ If you don't want to do it alone, then grab some friends and meet her at her favorite hangout.
9.  Prom Please? Cupcakes ~ Simply have any bakery add a few letters on some cupcakes and you're in business.
10.  Use Post-Its ~ Here's another really easy way to ask someone out.  Simply write little notes on some post-its and place them on her wall in the shape of  heart.  Who doesn't love some affirmations.
11.  Here's another version of using signs to ask someone out.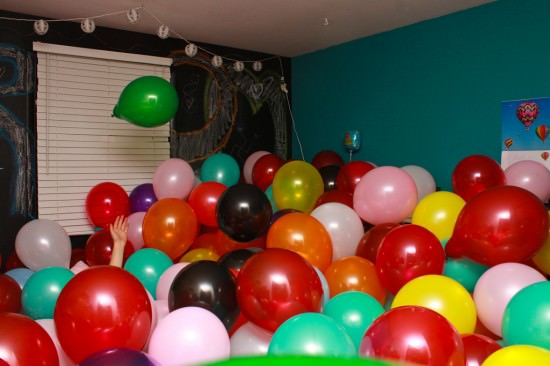 12.  Hide in a Sea of Balloons ~ Do you see the chalkboard wall in the background with the words "Prom?"  Her future date is hiding inside the balloons to surprise her when she come in.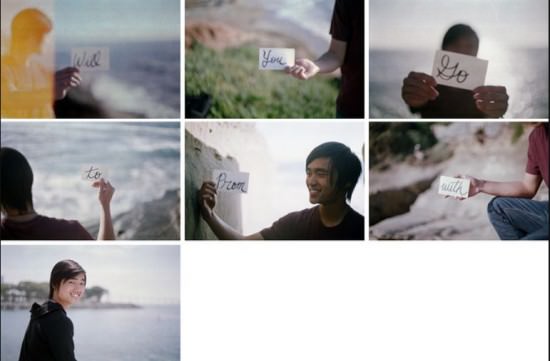 13.  Ask in a Photo Collage ~ Photograph yourself with different words in all of your future-dates favorite places.  Then put it all together in a photo collage or hide it around her room.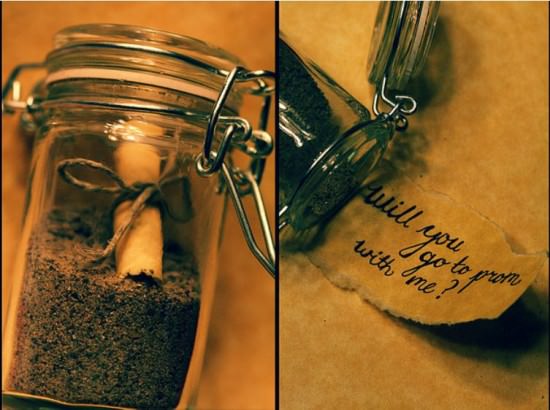 14.  Message in a Bottle ~ What a romantic way to ask a girl out on a date by putting the message in a bottle of sand.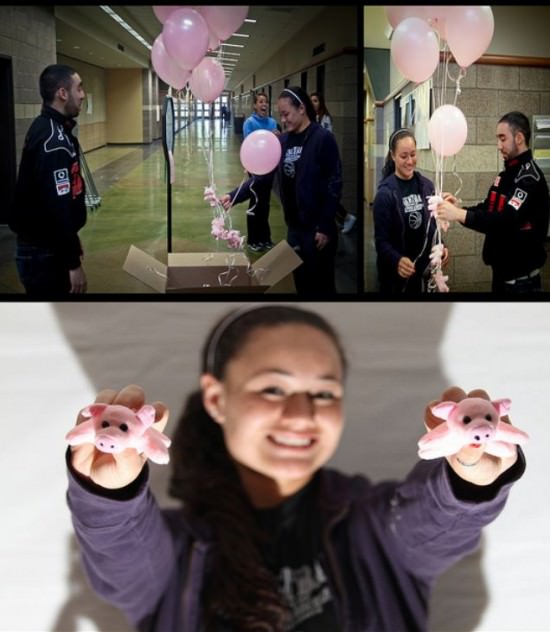 15.  Here's another "when pigs fly" version of asking someone out.  Package a few flying pigs into a box and hand it to her with a bunch of fabulous pink baloons.
Ways To Ask A Guy To Prom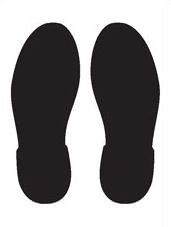 16.  Free Printable Shoe Print ~  Cut out black foot prints and place a Hershey's Kiss on each one.  Make a trail from the person's driveway into their bedroom.  In their bedroom leave a big sign that says, "Now that I've kissed the ground you've walked on, will you go to Prom with me?"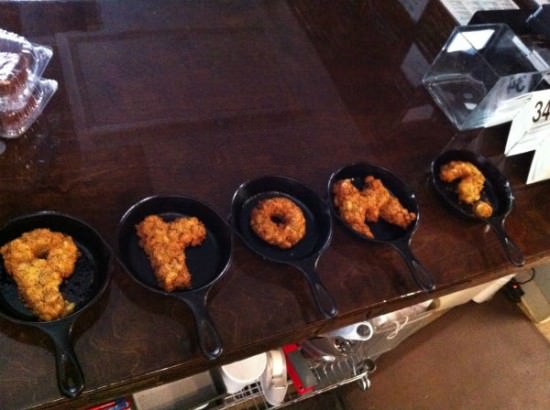 17.  They say the way to a guys heart is FOOD ~ Here's a yummy way to ask a guy to prom and get is attention.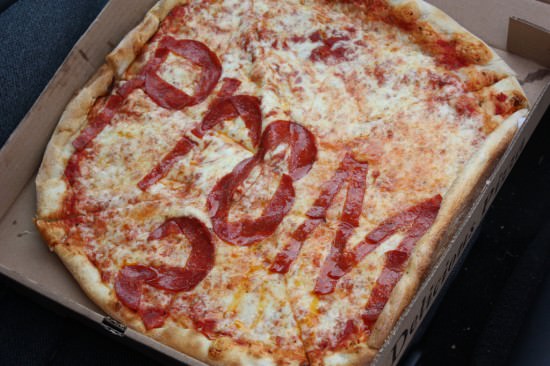 18.  Prom Pizza! ~ I'm sure your local pizza joint would be happy to spell out anything you'd like using their pepperoni.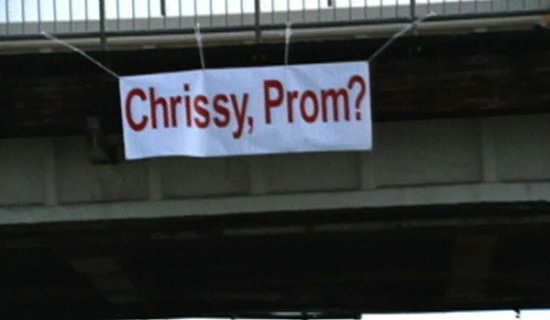 19.  Stalk His Ride Home ~ If there is a bridge or overpass that your soon-to-be-date routines drives under, you can hang a big sign under it.  Make sure you're there waiting for him!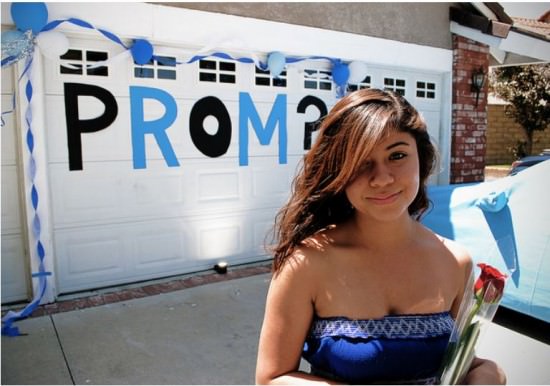 20.  Decorate his garage doors ~ This girl went all out using balloons, crepe paper, and some large letters.
P.S.  Don''t forget to check out the Tip Junkie Facebook page.  It's a great place to ask questions on how to make things or for specific tutorials that you are looking for. I'll be happy to find them for ya.
You Also Might Like:
Promoting creative women through their

craft rooms

 and products,

~ Laurie  {a.k.a. the Tip Junkie}