One of the most searched for ideas on Tip Junkie is craft room ideas.  So I thought I'd give those of you who are going to redesign a special place for yourself this year some really cool DIY inspiration.  Here are 12 beautiful craft rooms that you can make yourself!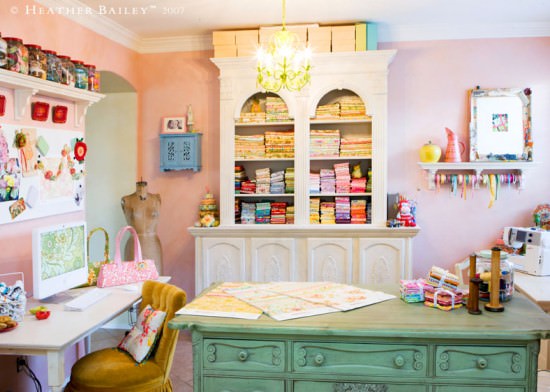 Crafting
1.  Heather Bailey's gorgeously designed studio from Isaac Bailey Photography – She stores her art supplies, sewing notions and wool felt in the refinished antique bookshelf.  The yellow boxes above hold less-frequently-used items, like velcro and grommets, linoleum blocks for stamp- carving, elastic and cording.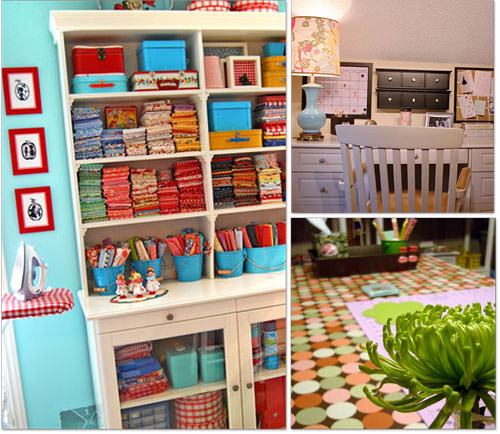 2.  A colorful craft room from Jenny – My favorite part is the Liatorp buffet from Ikea that stores my fabric and tons of other supplies, and quite stylishly.
3.  How to organize a Craft Room from This Blessed Nest with a lot fun tutorials.
4.  Thritfy Decor Chick's Craft Room before and after – I love this basement craft room idea.  It's a great way to turn an under-utilized space into a crafting retreat.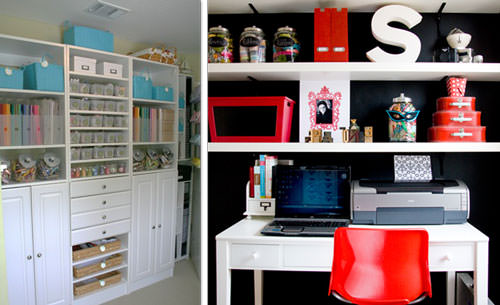 Scrapbook Rooms
5.  New Scrapbook Room – A detailed look on how to organize a scrapbook room with all of your tools and crafting supplies.
6.  A great wall collage in a craft room – The wall is painted with black chalk board paint and beautified with fun organizing containers and craft supplies.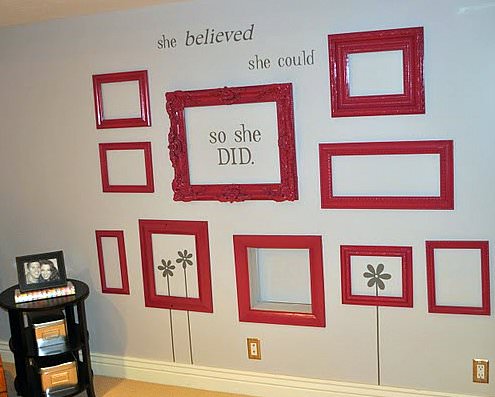 7.  Gorgeous empty frame craft room wall – A finished look and video showcase of I am Mama's craft room.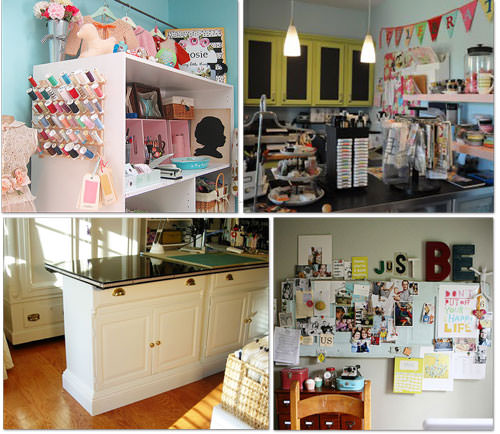 8.  A Beautiful Crafting Room — A little sugary, a little flowery, and at its best on cold, overcast afternoons when the turquoise walls glow, and doggie is napping under the work table, and inspiration seems to come from every basket.
9.  Before and After Craft Room – A great DIY craft room.  My favorite part is that she took 2 dressers and refinished them into a gorgeous crafting table.
10.  Craft Room from The Polka-dot Chair – With chalkboard paint supply cupboard to a crafting table made from several Ikea cabinets, some cool ideas to make your craft room fun and functional.
11.  Inspiration Board – I've been wanting to create a space to hang things that inspire me.  I love this "don't put off your happy life" board.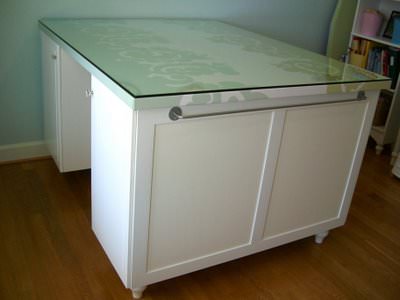 Interior Design
12. Spring Chick's to-die-for craft room – A cool tutorial on how to create your own crafting table.  She purchased four Ikea base kitchen cabinets and bolted them together on the bottom and added turned feet (to make it higher and prettier).
Interior Design Rooms from Tip Junkie:
If you have a darling room over on your blog, we'd love to see it! Feel free to leave the blog link in the comments or on the Tip Junkie Facebook page. Or if you're looking for a specific theme, let me know! I'll be happy to find it for you. {{I've got your back!}}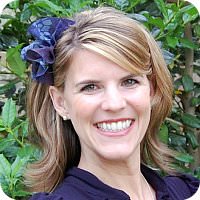 Creating Memories that Endure,
Laurie
I'm Linking to these Fabulous Women:
Skip To My Lou
Tatertots and Jello
Blue Cricket Design
Todays Creative Blog
Tip Junkie