For my sisters birthday this year, I made her a  birthday board game so that her friends could get to know her better as well as some entertainment during the party.

Print Free File: Download
Any old board game from Good Will
Scrapbook Paper
Textured Letter Stickers
Fun Vegas Themed Buttons
Happy Birthday Sticker for Front of Box
Hot Glue Gun
Glue Stick
Black Paint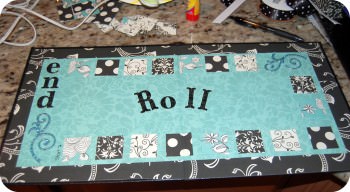 How to Make:
1.  For the cover, I hot glued polk-a-dot ribbon to the side to cover up the meeting of the two different papers.
2.  To make this game board, I got an old game from Good Will and covered it with scrapbook paper.  I kept it simple and cut pieces up for the places to go, added a start and end, some glittered cardboard pieces, and lettered stickers to spice it up a bit.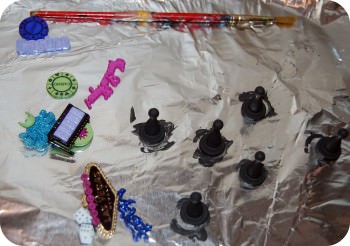 3.  For the game pieces, I painted the original pieces that came with the board game black, then hot glued on Vegas themed buttons on top of each one.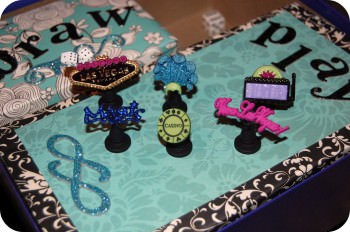 Here's the finished look of the game pieces.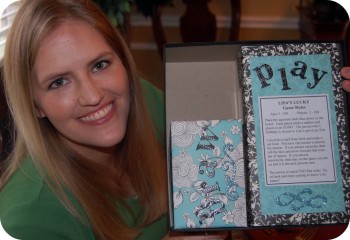 4.  For the inside of the game, I also covered the existing boxes with coordinating scrap-booking paper, letter stickers, and glittered cardboard embellishments.  I also pasted on the rules of the game on the "play" part.
5. Print out questions of the birthday girl on cards and then past them onto scrapbook paper to make them pretty.  For questions to the cards, they are so personalized that it's hard to come up with a generic printable for them.  You can simply ask any question or include a multiple choice option (like a, b, c, or d answer option).
For other variations of the birthday game board and more instructions, check out the Julie Rocks game board tutorial.
If you'd like this printable, you'll love what I feature every day. Subscribe to Executive Homemaker and get the most creative ideas sent to you via e-mail. It's easy!