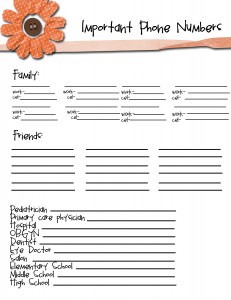 Buy the Entire Binder on Etsy for only $4.95!
There are many people in our lives that we need to communicate with for one reason or another.   Make a master list of all of them on one sheet of paper.  This will end the unnecessary searching later.
Keep track of them here, in your Friends & Neighbors section of the Executive Homemaker Binder.
Tip:  If you loose your cel phone or the battery dies and you can't retrieve them, you'll have a master list.
P.S. Learn how to organize your Executive Homemaker Binder and print it all from one file.