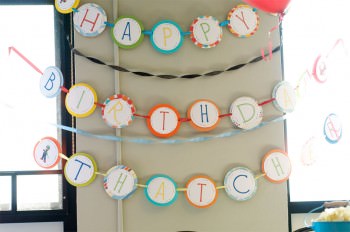 Print Free File:
Mario Birthday Planner (6844 downloads)
This past weekend we had a Super Mario Bros. Birthday party for my oldest son! Right now he is OBSESSED with ANYTHING and EVERYTHING Mario, so it wasn't a surprise when he chose Mario for his birthday theme.  I had so much fun putting this party together!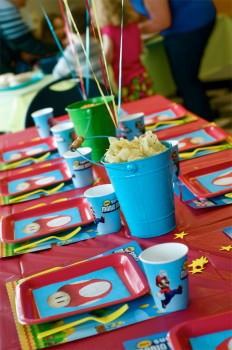 The main table all set for lunch.  I got all the plates, napkins, silverware, etc. from Birthday Direct.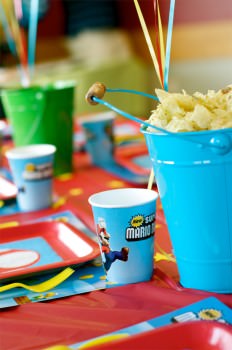 My son Thatcher LOVES "Green Chips" aka: Sour Cream and Onion chips, and Gold Fish.  I filled two buckets that I found in the Target $1.00 aisle full of chips and fishies!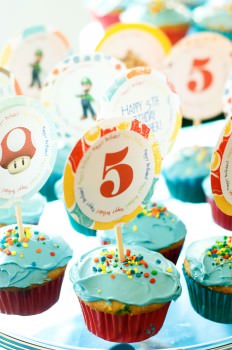 The Cupcake Toppers had all the Mario characters…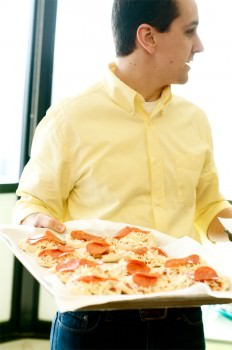 We had the kids make their own mini pizzas out of English Muffins.  I had a little topping bar where they could pick out their own toppings for their own pizzas, it was a big hit! While the pizzas baked we played the party games.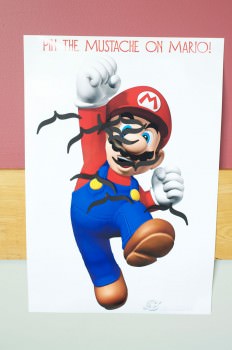 Print Free File:
Pin the Mustache on Mario (16686 downloads)
We played Pin the Mustache on Mario.  I got Mario printed at Costco on Poster paper.  The mustaches were cut from my Cricut.  You really could use anything!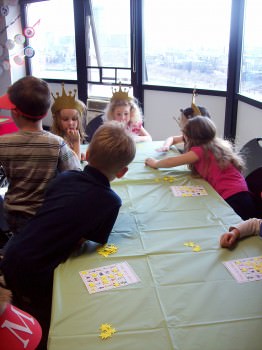 Print Free File:
Mario Bingo (8479 downloads)
I printed the bingo cards on heavy cardstalk and then cut out mini stars out of yellow card-stalk with my Cricut for the Bingo markers.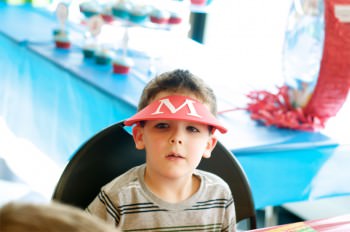 The boys all got red foam visors with a "M" on them for Mario!  I made these with sticky back felt and cut the M's with my Cricut.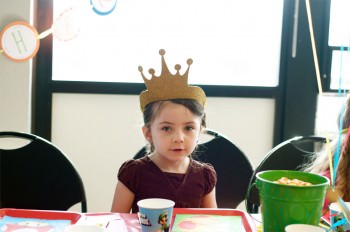 The girls got gold crowns just like Princess Peach!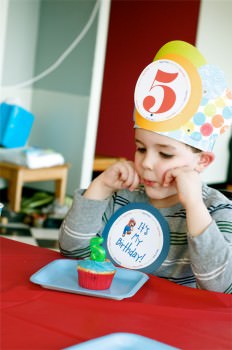 The Birthday Boy blowing out his number 5 candle.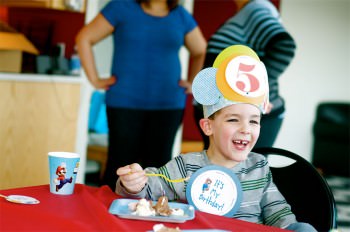 The gift bags for the kiddos to take home!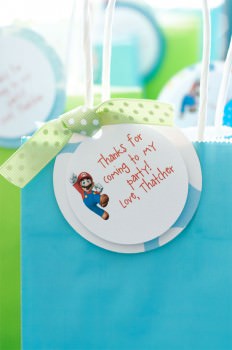 For all the coordinating Partyware come check out my blog, Panache & Pizzazz Parties!  I am offering now all my partyware in printable files for you to print and cut!
About the Executive Homemaker: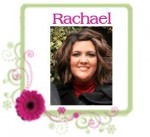 I am Rachael, I am a wife to a MIT grad student (who is a smarty pants!), and a mother of two darling little boys who keep me hopping! I love planning showers, weddings, and birthdays and thrive on making each event unique. If you're looking for ideas check out my blog Panache & Pizzazz Parties as well as my latest designs in my shop.  Creating cute partyware for holidays and celebrations is my passion.