Table lamps can completely warm up and bring instant character into a room.  I've found 8 thrifty ways to makeover table lamps for decorating your home.  These table lamps can be used in any room of your home.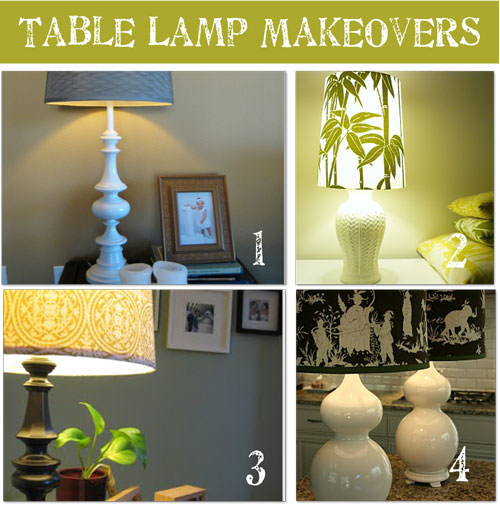 Table Lamps
1.  How to Paint a Brass Lamp – A pictured tutorial on how to take a brass lamp base to white table lamp and decorating your home.
2.  Before and after table lamp – It is amazing how much of a difference a bit of paint and a newly recovered shade can make.
3.  DIY Table Lamps – A thrifty way to create a beautiful lamp out of something old.
4.  Table Lamp Makeover –  The project began by finding a pair of gourd lamps at HomeGoods. The first job was to correct the color problem.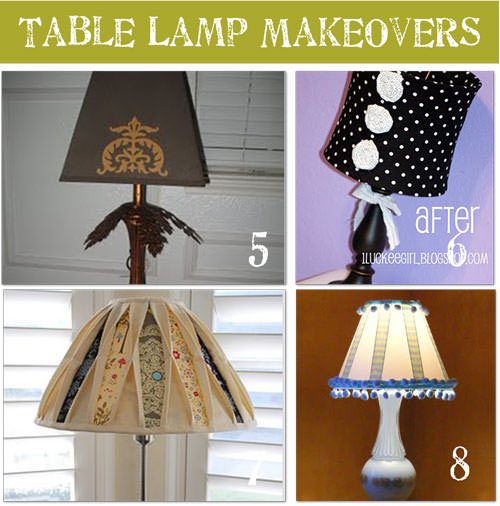 Table Lamp Makeover
5. Rub 'n Buff Lamp Bases Make over – I decided to makeover the lamp using the Rub 'n Buff paint that I had been using to accent the carvings on my dining room chairs.
6. PB Teen Lampshade Makeover – After it was all wrapped and glowing up nice and pretty,  I added the three rolled flowers out of the white with tiny black polka dots material.
7. Peek-a-boo Lampshade Frame – After flipping through older Anthro catalogs, I came across a lamp that had a similar structure as my white lamp and I was inspired.
8. Nursery Table Lamp Make Over – A darling antique lamp made over to match the baby's nursery room design.
More decorating and room design ideas from Tip Junkie: