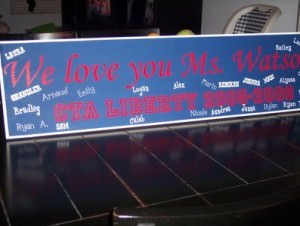 Make one of these board for your favorite teacher on any occasion.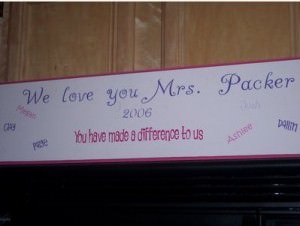 1.  Ask Why until you understand
2.  A+ Teacher
3.  It's more fun to color outside the lines
4.  Explore.  Wander.  Wonder.
5.  Hot lunch sounds better than it tastes.
6.  Be nice to the lunch lady.
7.  Scribble
8.  Lunch tastes better out of a Power Ranger lunchbox than out of a brown paper bag.
9.  Nobody likes a tattletale.
10.  Using a word you don't understand can be embarrassing.
11.  Don't always act your age.
12.  Recess is the best part.
13.  Math is fun when you're counting jelly beans
14.  It's easier to work for a teacher you like.
15.  Where you're going is more important than where you start.
16.  Ten minutes is short if it's a recess and long if it's a punishment.
17.   Ask where things come from.
18.  If you want someone to listen to what you're saying, whisper it.
19.  If you don't get it, say so.
20.  Take turns.
21.  Sharing isn't always the right thing—like when it's the chicken pox.
22.  Seashells should always be found, not bought.
23.  You might never get called on if you don't raise your hand.
24.  Do your best!
25.  Even Popeye didn't eat his spinach until he absolutely had to.
26.  The school bus is never running late the same day you are.
27.  Poems don't have to rhyme.
28.  It's more fun to ask questions than to answer them.
29.  There are names that hurt much more than sticks and stones.
30.  If you stay clean, you'll never have any fun.
31.  Imaginary friends can be the best.
32.  A pencil without an eraser might just as well be a pen.
33.  No one likes to be left out.
34.  A snow day is more fun than a vacation day.
35.  Every piece of the puzzle that doesn't fit gets you closer to finding the one that
does.
36.  When you're dressed up like a princess, it's easier to act like one.
37.  Wearing a halo can give you a headache after awhile.
38.  It's hard to unlearn a bad word.
39.  If you fall down, get up.
40.  As soon as you tell a secret, it's not one.