Are you new to Tip Junkie? If so, check out the FAQ.
I'm loving Summer's plaque for her laundry room. She used my Cricut to cut the vinyl and added some buttons and hung some H/S crystals!
Scrappin' Mom submitted her wall embossing tutorial. Home decorating-how to emboss on your walls. Wow!
Rachel embellished her daughter's wall art by painting an Ikea frame white, glued red buttons on the edges, and used it to frame a doily found at JoAnn's craft store for $1!
Kasey submitted her tutorial on how she repurposed old frames. I love to spray paint!
Maggie did a post of a couple of her metal home decor pieces. I really like this altered frame.
Jeannie sent in her kitchen table make over; she painted and antiqued her kitchen table.
Stephanie submitted her decorating vases tip. Take a used Frap (starbucks) bottle add some cute paper and you have a cute vase that coordinates with your decor! Or it makes a unique gift!
Shari made several easy home decor items using scrapbooking supplies.
Blue submitted her Pirate bedroom make over. How to transform yer lil' Pirates bare quarters into a Pirate Den in less than 3 hours for under $50 (for those lacking surplus treasure).
Here's Alana's Changing Station Closet; creating more floor space in a nursery by turning the closet into a changing station.
Brenda submitted her tips for old chest of drawers; energize a tired chest Of drawers.
Sarah submitted her repurposed dresser. A dresser turned into catchall in kitchen (for kids stuff…everything from crafts to mittens). While you're there, also check out her Popsicle art.
I totally want to copy Shannon's Walking Workstation. Her man added a desk to her treadmill and walk while on the computer. The TV on the wall doubles as my second computer monitor.
Look at Michelle's Window Ribbon Holders. A small space requires a ready made place to hold your ribbon. With tension rods you can easily hold your ribbon, out of the way -but still in a useful place.
Make a children's headboard using artists canvas. Elizabeth took a thrift store (ugly) painting on artists canvas, painted over it with craft paint and then painted a white star on it. It now serves as her little boys headboard.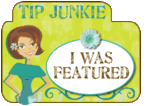 Thanks Ladies! If you don't already have an "I was Featured" button, feel free to copy the code and wear it proudly on your blog. These are amazing!

P.S. Check out the Mom-preneur Shops, they're now open all year long!
P.S.S. Announce your blog giveaways on Tip Junkie's New Giveaway Directory, it's free.