Thanksgiving will be here before we know it!  Here are 24 Thanksgiving table setting and centerpiece ideas that are you can make at home.  Many of these tutorials are budget conscious so don't let the beautiful picture fool you! {{wink}}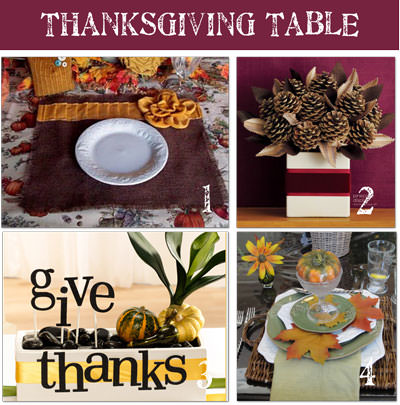 Thanksgiving
1.  Fall Burlap Placemats – I just adore the fabric flower place-mats and great colors that it brings out in the table.
2.  Pine Cone Centerpiece – The pine cone arrangement with striped metallic fabric cut out into leaves with a pinking shears.
3.  Give Thanks Centerpiece – Here's a project that can easily be tailored to your own color palette and the decorative materials available to you.
4.  Simple Shortcuts for a Stunning Thanksgiving Table – A few pointers I've picked up through the years on how to create a beautiful Thanksgiving table in minutes.

Thanksgiving Centerpieces
5.  Quick and Easy Thanksgiving Centerpiece – It will require the use of a 3-tier serving dish, but this is the type of piece that you'll be able to use over and over again for both food and decorative purposes.
6.  Indian Corn Centerpiece – Set a scented candle in a clear glass container. Fill the container with an inch of dried Indian corn kernels to hold the candle in place.
7.  Thanksgiving Table Cloth – How to make a tablecloth to bring your Thanksgiving table setting all together.
8.  Indian Corn Centerpiece- Arrange Indian corn in clusters of three ran neatly down the center like pyramids in the sand.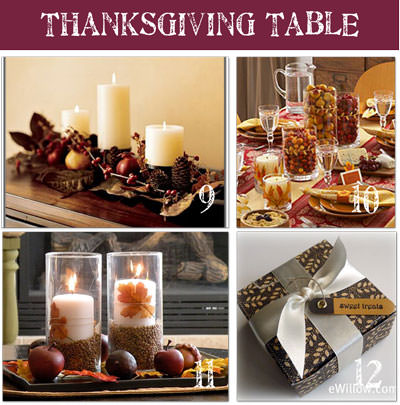 Thanksgiving Day Table
9.  DIY Thanksgiving Centerpiece – Here's an easy centerpiece idea that won't break the bank and will look stunning on your table.
10.  Tips for setting a beautiful Thanksgiving Table – Before you let your decorating dreams run away with themselves, there are just a few basic considerations you need to keep in mind.
11.  Fall Candle Centerpiece – My new centerpiece took me less than 10 minutes to put together and was free!  (I only used stuff I had laying around the house)
12.  Pamper Your Thanksgiving Day Guests – Here is a darling embellished box that can house a few sweets or something fun to pamper your Thanksgiving guests.

Table Setting
13.  Name Card & Cracker – 'Grateful for You' accent for the Thanksgiving table setting.
14.  3D Pumpkin Goodie Box & Tutorial – Want a cute way to gift a boxful of goodies for your Thanksgiving Day table?
15. Thanksgiving Table Setting – I love all the thin pillar candles that are placed all over the table with fresh flowers.
16. Thanksgiving Table Settings – Six pictures of gorgeous Thanksgiving table setting ideas.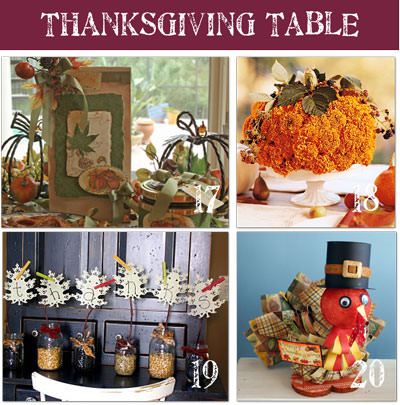 Thanksgiving Pictures of Centerpieces
17.  Thanksgiving Paper Crafting – A decorated jar of Pecan Pumpkin Butter and a bag filled with ingredients to make Spiced Pecan Pumpkin Quick Bread to give away as a Fall holiday gift set.
18.  Flower Pumpkin Centerpiece – Turn a florist's foam ball into a bouquet of fall blossoms to use as a pumpkin centerpiece for Thanksgiving.
19.  "Thanks" Table Setting Decor – She used $1 store doilies and created a fun "thank" centerpiece for her table.
20.  Turkey PaperCraft Tutorial – A Thanksgiving craft that can also double as a centerpiece.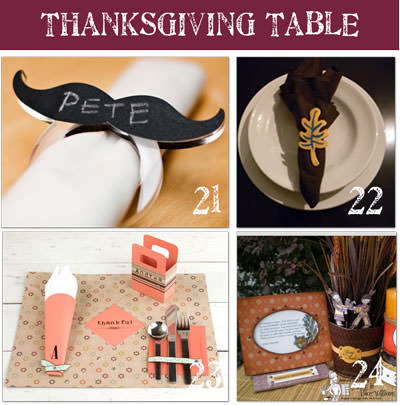 Thanksgiving Crafts
21.  Chalkboard Mustache Napkin Rings – I adore how these mustache napkin rings also double as place cards.
22.  Fall Crafts: DIY Napkin Rings – Use wooden leaf cut outs to make fun leaf napkin rings for your Thanksgiving Day table.
23.  PaperCrafted Thanksgiving Table Setting – I just adore this placemat, party favor box, and utensil holder all made out of paper for the Thanksgiving table.
24.  Stamped Thanksgiving Centerpiece – Make a beautiful poem to have on the table as a remember of all of our blessings.
Thanksgiving Decorating