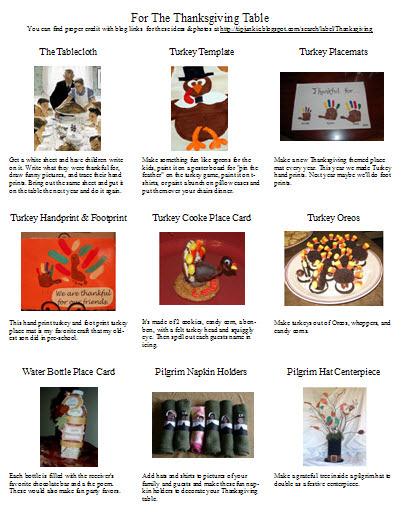 Print Free File: Download
This is a fun list of 18 Thanksgiving Traditions that I've featured over on Tip Junkie. I felt like they all needed to be in once place and easily printable as an easy resource for your Thanksgiving Planner.
To make things even easier – I've compiled them into a 2 page format you can print out and put in your Executive Homemaker binder for future use.  Simply circle the ones you do each year so you don't have to re-invent the wheel every year.
Below I have linked each of the ideas to it's original source to give these fabulously creative mommies the recognition they deserve.
1.  Turkey Day Awards
2.  Gratitude Cups
3.  Thanks & Giving Tree
4.  Wall Gratitude Tree
5.  Thankful Turkey
6.  Grateful Tree Centerpiece
7.  Apple Turkeys
8.  Thankful Chain
9.  Thankful Box
10.  The Tablecloth
11.  Turkey Template
12.  Turkey Placemats
13.  Turkey Handprint & Footprint
14.  Turkey Cookie Place card
15.  Turkey Oreos
16.  Water Bottle Place Card
17.  Pilgrim Napkin Holders
18.  Pilgrim Hat Centerpiece
I hope you'll plan something new and fun for your family this year.