Today I'm featuring themes for baby shower and gift ideas from fellow Tip Junkie readers.  These are darling baby shower parties and I'm stoked to be showing them off to you today.
If you have a cute baby shower or baby tutorial, feel free to submit it so I can feature you and share!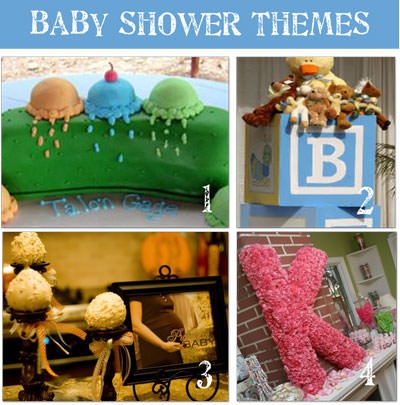 1.  Pickles and Ice Cream Themes Baby Shower – A great theme for any gender.   I love the tableware she picked out, in the perfect matching colors.
2.  A spring baby shower with a boyish preppy edge – Our theme was simply BABY. We incorporated everything baby with a boyish, preppy edge… The shower luncheon was held at a private Southern California estate on a beautiful spring day. The color palette was yellow, apple green, shades of blue with lavender accents.
3.  Pumpkin baby shower perfect for fall – An easy lil' pumpkin theme, since it was October, and pumpkins are easily found. Not to mention, Jamie has a plethora of fall decor, so this made decorating for the party a piece of cake!
4.  Pretty in Pink with Southern Charm – This was her second shower, so the focus was not on the gifts but celebrating the Mama to be and the upcoming arrival of her new baby girl, Kate, surrounded by family and friends.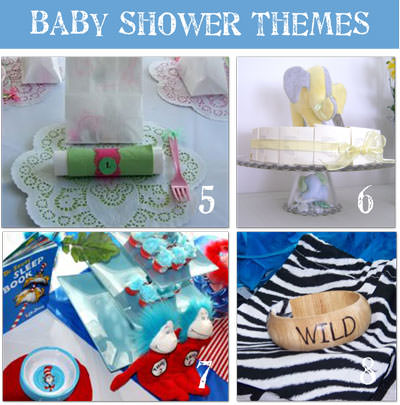 5.  Girly Birdie Baby Shower – Pretty green and pink! how much girlyer can you get !?! Dainty bows on the forks and cups just give it a special little touch that the guest just loved! And the doilies with a splash of color on the background just made everyone go AWWW too Cute!
6.  Elephant Alphabet Baby – It's a grey & yellow "Elephant Alphabet" theme  for a  shower because they don't know the gender.
7.  Dr. Seuess and Horton theme – Here is a Dr. suss party for my friend this past weekend! it was so fun to put together and plan!
8.  Wild Child Baby Shower For the favors, I finally made good use of the lot of 25 wooden bracelets I bought off Ebay like 100 years ago. Shannon whipped up these lovely little bags, that are just too cute!!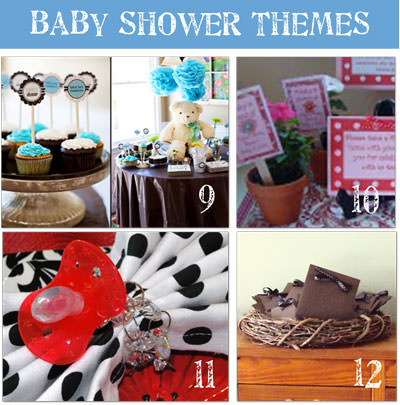 Creative Baby Shower Ideas
9.  Boy baby shower decor – Cupcake topper, banner, and party ideas decorations.
10.  Red, White and Pink Themes for Baby Shower
11.  Red, white, and black baby shower theme – All Grown Up is for the modern woman looking for something bit different, more sophisticated, chic… rather than the average cute party.
12.  Adding To Their Nest Baby Shower Theme – My goal for the decor was simple elegance with a touch of nature. The decor was made from recycled paper and a few little things I picked up here and there.

Easy Handmade Baby Gift Ideas
13.  Pregnancy Journal – I had a baby a few months ago and while I was pregnant I wanted a way to remember my pregnancy so I made this pregnancy journal. I loved filling it out as my pregnancy progressed and I know that I will enjoy looking back on what pregnancy was like for me.
14.  Car Seat Canopy tutorial – If you want to make fabric car seat canopy, like mine, then just follow along with these instructions.
15.  Diaper Wipe Case Tutorial – I saw these covered diaper wipe cases when I was pregnant with my first baby and fell in love with them. I thought they were adorable and had to make them! I hope you find this tutorial useful!
16.  Bib Clips Tutorial -I've seen these things called Bib Clips popping up around the internet for some time now, and I just think they're the most brilliant, practical solution to my problem.
Here are more themes and baby tutorials.