It's 'Teach Me Thursday' where I feature several cool tutorials and DIY projects you can do at home in several categories. I hope they inspire you to do something crafty today.

Coupon & Money Saving Ideas
1.  Coupon Organizer-Cash Wallet
2.  DIY Natural Dish soap
3.  Start a Coupon Train – Sharing grocery coupons between a small group of people.
4.  Wicked Cheap Handbook – is a tutorial on how to gather a 'coupon stash'

Project & Craft Ideas
5.  Scallop Flower Tutorial – Utilizing your basic scallop punch to create simple, but beautiful paper flowers.
6.  Chalkboard Flower Pots – Sweet/colorful pots you can write on.
7.  Reusable Swiffer Duster Tutorial – a tutorial to make your own reusable Swiffer duster cloth.
8.  DIY Maganetic Chalkboard Calendar

Entertaining Ideas
9.   Chinese Cookies tutorial
10.  Sweet Berrylicious Treat Box Tutorial – a tutorial and download to make treat boxes.
11.  Kentucky Derby Party – Entertaining kids at a Kentucky Derby Party
12.  The Perfect Guest Room – How to create and inviting guest room.

Food & Recipes
13.  Menu Planning Made Easier
14.  Rosemary Oregano Chicken – Recipe w/ printable recipe card
15.  Cinnamon Rolls for Friends – Taking unbaked cinnamon rolls to friends to enjoy the fresh baked goodies at home.
16.  Homemade Lemonade and Fancy Straws

My Other Sites:
a. TJ Mom-preneur Shops: Unique & Affordable Gifts Save 15% with coupon code save15!
b. EH Mom-preneur Shops: Jewelry YOU can afford!
c. Visit Our Peeps: Fresh gear for kids
d. TJ Blog Events & Giveaway Directory: Flip SlideHD $280
e. Executive Homemaker: Lemonade Themed Party Printable Kit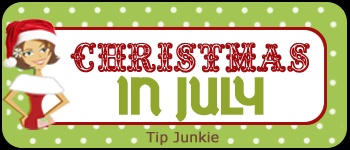 Christmas in July starts next week, July 19 – 31st! Submit your ideas