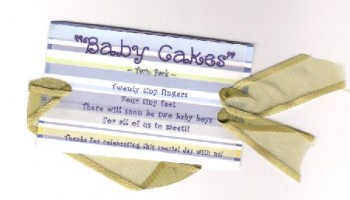 Print Free File: Download
This is a yummy way to thank your guests for coming to the baby shower. It's also very easy!
"Baby Cakes"
– Twin Pack –
Twenty tine fingers
Four tiny feet
There will soon be two baby boys
For all of us to meet!
Thanks for celebrating this special day with us!
How to Make:
1. Twin pack of Little Debbie Cakes (square ones in a double pack)
2. Print out poem on _________ paper.
3. Cut to fit on top of the cakes.
4. Cut printed scrapbooking paper a little larger than ________ paper.
5. Lay _________ paper on top of printed paper and hole punch 3 holes. (See picture)
* One on the middle of the left side
* Two in the middle of the right side
6. Thread ribbon through one hole on right side underneath to hole on left side, around the cakes and back up through the other hole on the right side. Tie a bow. (See picture)