I believe that every crafty girl needs some fabulous handmade accessories! Right?!?  These would make fabulous teacher gifts, Christmas gifts, birthday gifts for friends, and especially for yourself!  So here is a list of what every girl needs that include 12 fashion accessorizes that you can make at home.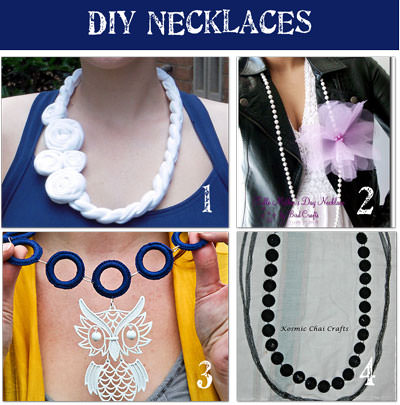 Every Girl – Necklaces
1. White Jersey Necklace – Tutorial for a fabric flower necklace with clean, finished edges from an old T-shirt.
2. Tulle Necklace Tutorial – How to make a long pearl necklace with a tulle flower.
3.  Painted Pendant Tutorial – updated an outdated pendant with spray paint!
4.  Crystal Chain Necklace – A pretty necklace with glowing strand of crystals amidst silver strands, sure to glam-up any plain t-shirt or tank top!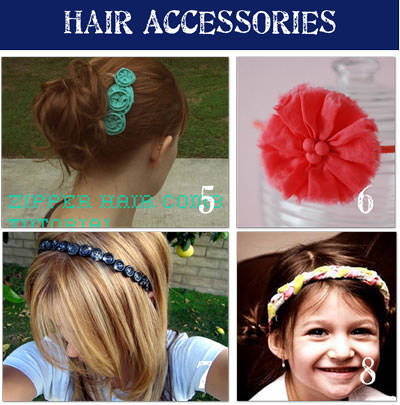 Every Girl:  Hair Accessories
5.   Zipper Comb tutorial – Zipper comb basics…can be made into comb, headband, bobbys, brooch, shoe clips, etc.
6.  JCrew style flower – Make a JCrew style floral headband, clip, or pin
7. Easy Button Headband – An easy and cheap way to make a fun button headband.
8.  Braided Headband Tutorial – It's a snazzy little braided headband..that uses scraps and is easy peasy 🙂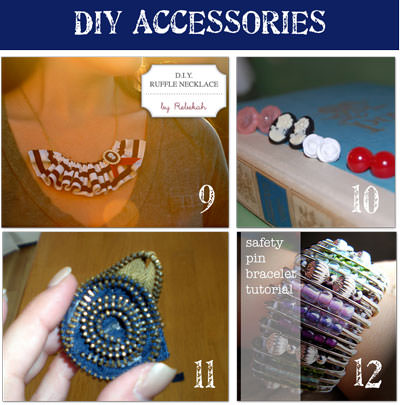 Every Girl: Handmade Accessories
9.   DIY Ruffled necklace – A great tutorial showing us how to make fabulous ruffled necklaces.  Make one for yourself and/or as gifts for your girlfriends.
10.  Button Earing Craft – a pictured tutorial on how to make earrings from buttons.
11.  Zipper Pin Tutorial – How to make a darling zipper pin from zippers
12. Safety Pin Bracelet – Learn how to make a beautiful bracelet with some safety pins and beads.
You also might like these fashion posts from Tip Junkie: