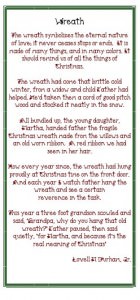 The wreath symbolizes the eternal nature of love; it never ceases stops or ends. It is made of many things, and in many colors. It should remind us of all the things of Christmas.
The wreath had come that brittle cold winter, from a widow and child Father had helped. He'd taken them a cord of good pitch wood and stocked it neatly in the snow.
All bundled up, the young daughter, Martha, handed father the fragile Christmas wreath made from the willows and an old worn ribbon. A red ribbon we had seen in her hair.
Now every year since, the wreath had hung proudly at Christmas time on the front door. and each year I watch father hang the wreath and see a certain reverence in the task.
This year a three foot grandson scowled and said, "Grandpa, why do you hang that old wreath?" Father paused, then said quietly, "for Martha, and because it's the real meaning of Christmas"
by Lovell M Durham, Jr.

Print Free File: Download