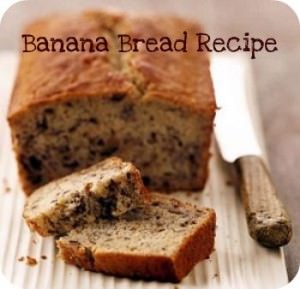 Have you been looking for a yummy banana bread recipe?  Well, then consider yourself hooked up with this classic banana bread recipe from Our Best Bites!
If you want something more fun and unexpected; I've also found four more banana recipes that you can make today using your ripe banana's you have on your counter.  Enjoy!
Classic Banana Bread Recipe
2 cups all-purpose flour
3/4 tsp. baking soda
1/2 tsp. salt
1 cup sugar
1/4 cup butter, softened
2 large eggs
1 1/2 cups mashed ripe banana (about 3 bananas)
1/3 cup plain low-fat yogurt
1 tsp. vanilla extract
2-3 Tbsp. brown sugar
Cooking spray
Preheat oven to 350°. Lightly spoon flour into dry measuring cups; level with a knife. Combine the flour, baking soda, and salt, stirring with a whisk. Place sugar and butter in a large bowl and beat with a mixer at medium speed until well blended (about 1 minute).
Add the eggs, 1 at a time, beating well after each addition. Add banana, yogurt, and vanilla; beat until blended. Add flour mixture; beat at low speed just until moist. Spoon batter into an 8 1/2 x 4 1/2-inch loaf pan coated with cooking spray. Sprinkle brown sugar on top.
Bake at 350° for 1 hour or until a wooden pick inserted in center comes out clean. Cool 10 minutes in pan on a wire rack; remove from pan. Cool completely on wire rack.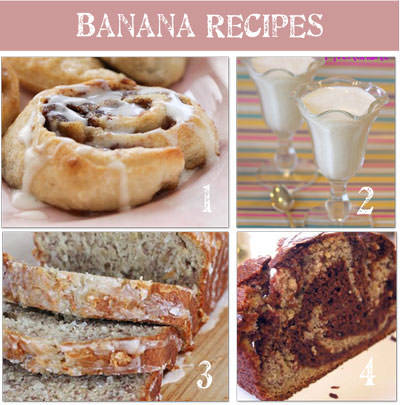 Yummy Banana Recipes
1. Roasted Banana Cinnamon Rolls – This recipe is a no fuss, easy peazy version that you can whip up in no time….. AND it tastes like warm cinnamon banana bread from Picky Palate.
2. Banana Bread Milkshake –  Talk about heaven in your milkshake glass! It literally tastes like banana bread from Picky Palate.
3. Coconut Banana Bread with Lime Glaze – It's close enough to a traditional banana bread that everyone loves the flavor.  Yet it's just different enough that people always say, "Wow!" from Our Best Bites.
4. Chocolate Swirled Banana Bread – There are lots of recipes for banana bread out there, but I guarantee you, this is the best one. Because the Chocolate Swirl Banana Bread uses the Classic Banana Bread as its base from Our Best Bites.
More recipes from Tip Junkie: