I find furniture restoration and taking old furniture and making it beautiful so rewarding.  Today, I'm featuring 8 file cabinet makeovers that you're going to love.  These before and after file cabinets have full pictured tutorials so you can makeover your ugly metal file cabinets you have at home as well!  {{squeal in delight}}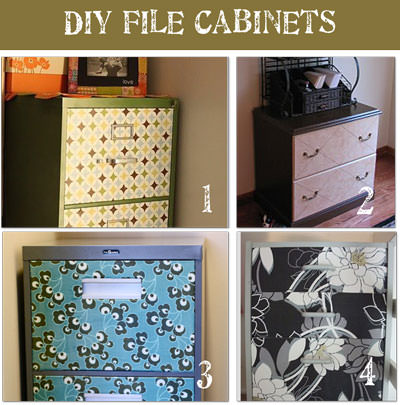 File Cabinet Makeovers
1.  Fabulous File Cabinet makeover with step by step pictured instructions from Jackie who turned her 4 drawer file cabinet into a beautiful work of art.
2.  Short file cabinet makeover – Using faux painting technique on the drawers and the desk top. **Sadly, this blog was made private.  You no longer can view the tutorial.
3.  DIY Fabric filing cabinet redo –  Cut fabric to fit and secure with a mod podge on the cabinet, smoothed on the fabric and an hour or so later added another layer on top.
4.  Grey veneer filing cabinet makeover – Jodz used a sample of Vision wallpaper that has a lovely textured suede feel and cost $7.00 (available in NZ at Resene) to make her file cabinet beautiful.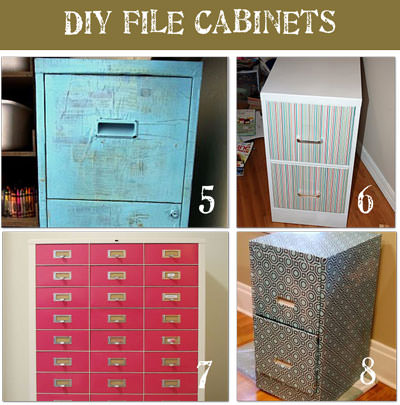 Before & After File Cabinets
5.  Telephone pages textured tutorial – Shannon jazzed up her file cabinet using telephone book pages, mod podge, and paint.  It looks amazing.
6.  Modge Podge File Cabinet Make-Over – Here is Sew Woodsy's version of her cabinet makeover – she used scrapbook paper on the doors.

7.  You can also just use paint just like Meridith did with her multi-drawer storage cabinet.
8.  iGriza's beautiful storage cabinet redo – Third times a charm for this makeover and it was worth it as the ending product is fabulous.
More Makeovers from Tip Junkie: