Decorating with silhouettes are all the rage and it's not too late to make a silhouette or two for your own home.  Making silhouette DIY home decor is actually a lot easier than you think!  Here are several beautifully illustrated tutorials on how to make 12 gorgeous silhouette designs to wear, as gifts, or for your home.
Related ➜ 11 Gorgeous Free Cut Files For Your Projects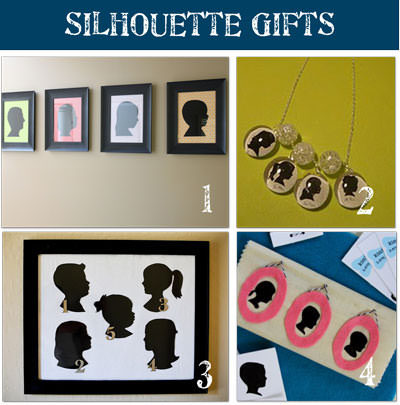 Silhouette Homemade Gifts
1.  Framed Fabric Silhouettes Tutorial – Wall decorations with this easy project of making silhouettes the family and framing it using fabric as the background. Cheap and easy fix to a plain wall.
2.  Bauble Silhouette Necklace – A pictured tutorial on how to make this darling necklace out of a flat glass stone, mod podge, and photoshop.
3.  Family Silhouette Matted Frame – A quick tutorial on how to use your digital camera to make this gorgeous framed family silhouette.
4.  Silhouette Checkbook Cover for Grandma – A fun tutorial on how to make a custom checkbook cover for yourself or Grandma.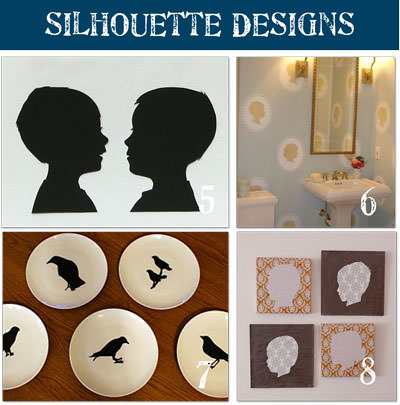 Custom Family Silhouettes
5.  Detailed pictured tutorial on how to make silhouette pictures of your children or family members from What I Made Today.
6.  Victorian Silhouette Wall Paper – Silhouettes are timeless and bring an elegant look to this powder room.  How the silhouette color plays off the mirror and wall sconces are oh-so-eye-catching.
7.  Silhouette Bird Plates – A great tutorial on how to make eye popping bird silhouettes from dollar store plates.
8.  Children Silhouette Canvases make wall decor for your home and it can be very inexpensive to make.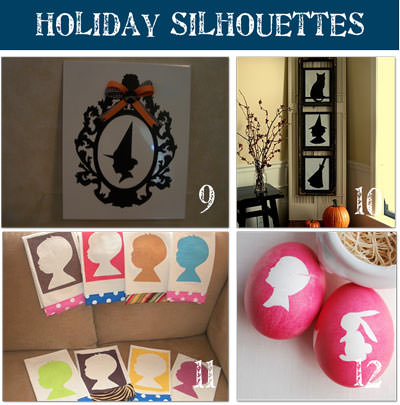 Silhouette Holiday Crafts
9.  Silhouette Halloween Tile – An easy and quick holiday craft made from matte black vinyl and then added the ribbon and button embellishments.
10.  Halloween Silhouette Decor –  How to make a framed vertical paper silhouette design for your home.
11.  Silhouette Tea Towels for Grandparents Day – A freezer paper stencil tutorial with instructions on how to personalize tea towels using silhouettes of the kids.
12.  Easter Egg Silhouettes –  A fun pictured tutorial on how to dye Easter eggs with silhouettes of your family.
More Posts with Silhouette tutorials: