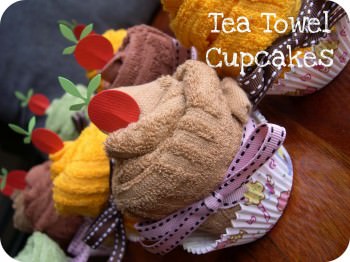 Yoonie made this housewarming gift for a friend recently. They are little Tea-Towel Cupcakes made from towelettes and disguised as cupcakes!
The size of your towels will determine the size of your cupcakes. They're supposed to be dainty, so pick rectangular towels.  You want the finished product to fit in a regular cupcake liner.
Push the cherry sticks on top and place them on a cupcake liner each. Super Cute!
Housewarming Gift Ideas from Tip Junkie: