Today's food round up is all about the pancake recipe!  Here are 8 yummy pancake recipes for you to make for your family for breakfast.  Enjoy!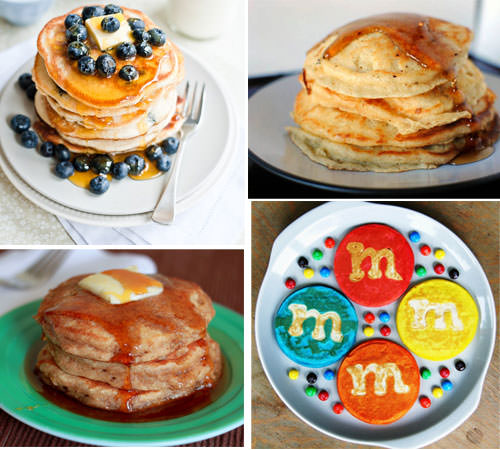 Pancake Recipe
1.  Birthday Blueberry Pancakes – Make yourself and your family these blueberry pancakes and celebrate with me! Anyway, everyday is a celebration day, right? 🙂
2.  Fluffy Buttermilk Pancake recipe – An easy recipe for fluffy buttermilk pancakes for a delicious breakfast.
3.  M&M Pancakes for the Kids – Your family will love these adorable and yummy colorful pancake recipe.
4.  Applesauce Pancakes with Apple Cider Syrup – Kid-friendly and gruntworthy, this Applesauce Pancake recipe is easy to whip up, and is absolutely delicious, especially topped with the also-easy Apple Cider Syrup.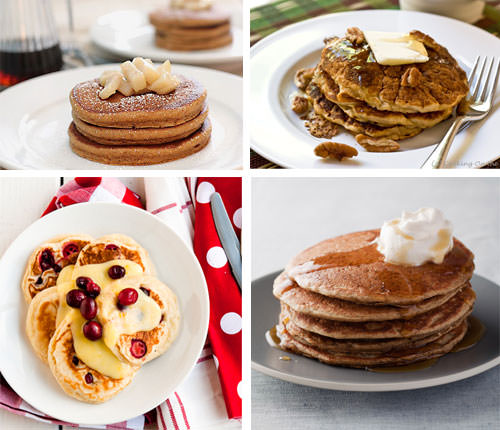 5.  Gingerbread Pancake Recipe – They are light, fluffy, and perfectly spiced. I like to serve them with sauteed pears and a dusting of powdered sugar.
6.  Multigrain Pancakes – The name makes them sound like they'd be heavy or dense, but they're actually really fluffy with lots of great texture from the grains and pecans.
7.  Cranberry-Nutmeg Pancakes with meyer lemon curd and warmed cranberries – While there's nothing wrong with blueberry pancakes, I decided this year that we need a little creativity, so this is what I'm planning on making come Christmas morning.
8.  Gluten-Free Pumpkin Pancakes with Maple Whip – A yummy pancake for those with gluten allergies. You can make the maple whip beforehand and store it in the refrigerator.
More Recipe Ideas from Tip Junkie: