Have you ever dreamed about getting published and writing a book or being featured in a magazine? Well, then consider yourself hooked up on how to get published because today I'm dishing what I learned at the The Creative Connection Event during the editorial panel breakfast. It was the most beautiful gathering of crafty women and my mind is still whirring with everything I learned and who I met.
Today, I'm featuring my notes on the Editorial Lunch Panel. However, even if you aren't interested in becoming famous by writing a book or being featured in a magazine, you'll love this cute montage video I made called "A Sneak Peak into Crafty Classes".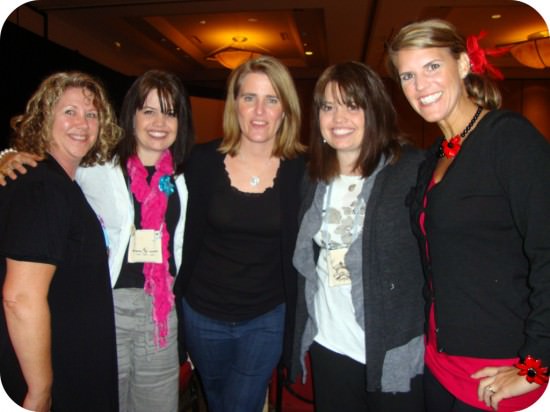 Kim, Kim and Kris, Cindy, and Me
Editorial Panel Breakfast
The Editorial Panel Breakfast was fascinating! It was a powerful line up of women who were completely dishing on how to get published. I couldn't believe all the key information they gave us. Here are a few of my notes:
Deborah w/ @betterhomes explaining the publishing world an getting the inside scoop!
Takes a long time to publish book, expect about a year.
Debora with @betterhomes excited about testing the digital space for their market and featuring information quickly
Mary Jane Butters self publishes her information.
"You always start at the top" is Jo Packham's business advice when contacting people in business
It's important to establish relationships with magazine and book editors – key to this business.
Nicole with @larkcraft is looking for bloggers to work with.
Contact a publisher with a "show and tell" attitude with beautiful pictures and spell check.
Be persistent but nice and kind when pitching. Also don't sell an email on Monday or Friday.
You are not selling an idea – you are selling yourself.
Mary Jane Butters wants pitches that are beautiful and pretty. Packaging it like an invitation is a great idea.
Christen w/ @stampington Is looking for new ideas not something packaged with full purpose of being published.
Deborah w/ @betterhomes want bloggers to be apart of their site and wants to with with bloggers.
What to do if your publishing company doesn't promote your book? It's authors job to promote as well.
Create a special project in magazines to help market your book.
Craft publishers Love to work with authors directly and are easier to work with than fiction publishers Agents can clog the system.
The "editor" is the 1st person you want to contact to get published first – send a darling card. ((wink)) then editor-in-chief next.
"Shopping for publisher like shopping for husband you need to date a few!"
Having a self published book is very respectable and looks very good to a publishing co. ((Not a guarantee))
Be creative but be concise when contacting editors – they decide quickly! If video keep it 60 secs.
Unfortunately, my notes are just a quick blurb in what was discussed during the three hour panel. I hope you'll consider joining us next year at the The Creative Connection Event.
A Sneak Peak into the Creative Classes
Oh My Gosh! You would not believe the painting, sewing, jewelry making, and all of the amazing classes that were available for crafty gals like ourselves. I made you a really short montage video of all the craftyness just so you can get a taste of what we did at The Creative Connection. I hope you like it.
More from The Creative Connection Event
If you're just joining us and would like to read more about how to get published, how to grow your blog, social media, and more about becoming a woman in business. Here are the other recap posts from The Creative Connection Event:
I would be remiss if I didn't' take a quick second to thank my fabulous sponsor Westminster Fabrics.
I am so excited for Amy ButlerÂ's new line of fabric Soul Blossoms.
Imagine all the wonderful things that can be made!